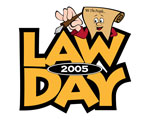 The theme for this year's celebration is "Free to Make a Difference." As Americans, we are free to speak, free to think, free to be…free. We live in a country where our government is governed by our Constitution, and the success of that process is based upon every citizen's involvement. By voting, going to school, volunteering and working, we all have the ability, opportunity and freedom to truly make a difference.

To help share with students how they can make a difference, the PBA and local bar associations across the commonwealth will sponsor Law Day activities throughout the month of May. The activities will begin on May 2 with a statewide kick-off event and will continue with visits by lawyers and judges to schools statewide.

Pennsylvania's Law Day 2005 celebration is coordinated by the PBA Law-Related Education Committee and funded by the Pennsylvania Bar Foundation.

Law Day 2005 Planning Schedule


February – May 2005: Law Day 2005 Lesson Plan Guide Available
May 1, 2005: Law Day 2005 (Observed May 2, 2005)
May 1 – 31, 2005: Schools, Judges & Lawyers Celebrate the Law

Law Day 2005 Registration Form
2005 K-12 Law Day Lesson Plan Guide
List of Lawyers & Judges Interested in Visiting Classrooms
List of Schools Interested in Having Lawyers & Judges Visit
Law Day Activities in Your Area
Lesson Supplement: Understanding the Courts

Law Day 2005 Classroom Visits
The PBA will maintain a list on the PBA Web site of all lawyers, judges and educators interested in participating in classroom visits. Use the registration form above to have your contact information included on the list. Then simply visit this Web site throughout the spring to see if anyone is registered in your area and contact that person/school directly to arrange a visit. Your name ONLY will appear on the Web site if you check the appropriate box when you register.

Please call the PBA Law Day Hotline at 1-877-329-7621 with any questions. You may also e-mail your questions to lawday2005@pabar.org.