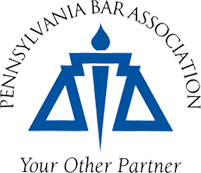 2005 Law Day Registration Form
To register for Law Day 2005, simply complete this form and fax it to 717-238-2342 or mail it to: Pennsylvania Bar Association; Communications Department; 100 South Street; Harrisburg, Pa. 17108. You will receive a free Law Day 2005 K-12 Lesson Plan Guide and other Law Day information. Thank you for your interest!
Name:
Title:
School/Firm/Office:
Address:
City:
State:
Zip:
County:
Phone:
Fax:
Please include my contact information on the PBA Web site. ** The PBA will maintain a list on the PBA Web site of all lawyers, judges and educators interested in participating in classroom visits. Your name ONLY will appear on the Web site if you check this line. Then simply visit this Web site throughout the spring to see if anyone is registered in your area and contact that person/school directly to arrange a visit.