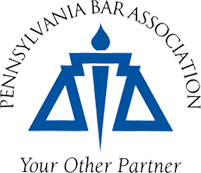 Luzerne County Lawyer to Become Chair of Pennsylvania Bar Association Young Lawyers Division
HARRISBURG (May 27, 2008) - Luzerne County lawyer Ryan C. Blazure will become chair of the Pennsylvania Bar Association (PBA) Young Lawyers Division (YLD) at the conclusion of the association's annual meeting, June 6, in Hershey.
A member of the PBA and the Luzerne County Bar Association, Blazure serves as the YLD delegate to the PBA House of Delegates and as the YLD delegate for Zone 5 to the PBA House of Delegates. He is a member of the PBA Animal Law Committee and the PBA Intellectual Property Law Section. He served as YLD co-chair of Zone 5 from 2001 until 2005. Since 2002, he has served as the PBA YLD High School Mock Trial Program regional coordinator for the northeastern region of Pennsylvania.
Blazure is a graduate of Wilkes University and the Syracuse University College of Law.
Founded in 1895, the Pennsylvania Bar Association strives to promote justice, professional excellence and respect for the law; improve public understanding of the legal system; facilitate access to legal services; and serve the 29,000 lawyers who are members of the association.
Editor's Note: A photo of Ryan C. Blazure is available to download from the PBA Web site at: http://www.pabar.org/public/news%20releases/0809newofficersphotos.asp