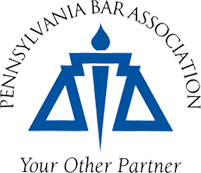 Lancaster Lawyer Elected Vice President of Pennsylvania Bar Association
HARRISBURG (May 18, 2009) - Matthew J. Creme Jr., a partner in the Lancaster County law firm of Nikolaus & Hohenadel LLP, will become vice president of the Pennsylvania Bar Association at the conclusion of the organization's Annual Meeting June 4 in Pittsburgh. Creme will become president of the 29,000-member state legal association in 2011.
Creme served on the PBA Board of Governors as Treasurer from 2005 until 2007 and as Zone Three Governor from 2000 until 2003 representing Adams, Cumberland, Dauphin, Franklin, Juniata, Lancaster, Lebanon, Perry and York county lawyers. He is a member of the PBA House of Delegates, the Berks County Bar Association and the American Bar Association. Creme served as president of the Lancaster Bar Association in 2004 and is a past chair of the Lancaster Bar Association's Long Range Planning Committee.
Creme is a past board chair of the American Red Cross of the Susquehanna Valley and the Lancaster County Multiple Sclerosis Society. Creme serves as the Board Chair for Lancaster Catholic High School. He also has served as a member of the Northeast Service Area Resource Council of the American Red Cross. He is a former chair of the Dickinson College Alumni Council.
Creme is a graduate of Dickinson College and the Georgetown University Law Center.
Editorís note: A photo of Matthew Creme is available to download from the PBA Web site at: http://www.pabar.org/public/news%20releases/0910newofficersphotos.asp.