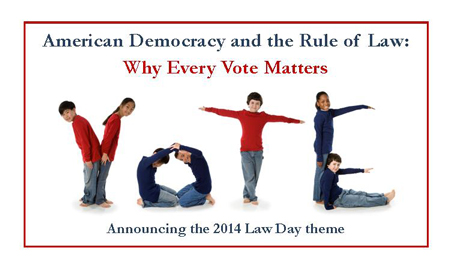 "American Democracy and the Rule of Law: Why Every Vote Matters"
Law Day began in 1958 when President Dwight D. Eisenhower proclaimed Law Day to strengthen our great heritage of liberty, justice and equality under the law. This year the Pennsylvania Bar Association is celebrating our 14th year of Law Day activities. The theme for Pennsylvania's 2014 celebration is the same as the American Bar Association's theme, "American Democracy and the Rule of Law: Why Every Vote Matters."
The Pennsylvania Bar Association and local bar associations across the state will sponsor Law Day activities throughout the month of May. In addition, schools, lawyers and judges are encouraged to work together to arrange for classroom visits and to use the PBA's free law-related lesson plans in all schools.
K-12 Student Contests for Law Day
The Pennsylvania Bar Association and Pennsylvania Bar Foundation are pleased to announce the 2014 Law Day poster, essay and video project contests for students. The theme for this year's entries is "Every Vote Matters." The deadline for entry is March 21, 2014.
Contest Rules
Poster and Essay Contest Entry Form
Video Contest Entry Form
Law Day 2014 Registration Form for County Bar Associations in Pennsylvania (Word) (PDF)
Why We Celebrate Law Day - Charles Rhyne, president of the American Bar Association in 1957, is credited with being the person who thought of the idea for Law Day-U.S.A. He said, "The thing we want people of the whole world to know is that in our country we are more proud of our moral principles as expressed in the concept of our government of laws than we are of any materialistic accomplishment or achievement of our people. It is the purpose of 'Law Day-U.S.A.' to highlight this basic fact - thereby throwing a spotlight upon the rule of law in America, expressing to the people of the world our admiration and respect for the rule of law as the key to individual freedom and justice." Read the text of Rhyne's original radio broadcast, delivered on the first Law Day, May 1, 1958.
Law Day Planning Guide from the American Bar Association - The ABA Law Day Planning Guide is available as a PDF file that can be viewed on a computer or printed, and as an iBook that can be viewed using and iPad. You can download them both on the America Bar Association website.
2014 Law Day Word Searches
Word searches are a fun activity for students and something you can leave with them to complete and take home to share with their parents after your visit. You can go over the words with the students and ask them if they know what the words mean. This activity involves the students in the lesson instead of you lecturing to them about legal terms. Their responses create discussion opportunities in which you can clarify any misperceptions students have and you can ask questions to help them and their classmates think a bit more about their responses.
Guide to Using Word Searches in the Classroom
Elementary Level Word Search
Middle to High School Level Word Search
2014 Law Day-Themed Lessons from the American Bar Association
Campaigns and Elections 101 - recommended for students in grades 1-3
Purpose: Students will learn about the campaign and election process while listening to Today on Election Day by Catherine Stier. Students will participate in a mock election activity.
The Critical Voter - recommended for students in grades 6-8
Purpose: Students will learn about the different strategies used in political campaign ads by examining historic presidential election television ads and discussing how the creators of the ads used words, music, and images to convey a specific message to voters. Students will be introduced to the FCC and the Equal Opportunities regulations for broadcast stations and political campaign ads. Students will also learn about the Supreme Court ruling in Citizens United v. Federal Election Commission and its impact on the development of super PACs and campaign advertising practices. Students will be asked to take a position on the role of super PACs in political campaigns.
Barriers to Voting - recommended for students in middle and high school
Purpose: Students will participate in completing a copy of a 1964 voter registration form as a starting point for discussion on barriers to voting and the Voting Rights Act of 1965. Students will learn about their state's current voter ID laws and develop arguments for and against the laws. Students will then review a scenario for a state's new voter ID laws to critically discuss the implications of such a law.
Voter Suppression - recommended for students in high school
Purpose: Many states have recently passed or revised their voting laws. These laws have been met with support by those that feel they prevent voter fraud. Others view these laws as new forms of voter suppression. This lesson asks students to analyze a political cartoon that highlights the topic of voter suppression and voter fraud, consider multiple perspectives, and form their own opinion on the issue.
Talking with Young Students about Conflicts and Justice
Watch this three and a half minute video featuring Supreme Court Justice Sonia Sotomayor as she visits with her friend Maria on Sesame Street and talks about her job as a U.S. Supreme Court Justice. While visiting, she helps Baby Bear and Goldilocks peacefully resolve a dispute over Baby Bear's broken chair. This could be a great opening for a lesson with young students in grades K-3.
Applicable for Any Grade Level

Kindergarten through Second Grades (youth ages 5-7)
It's never too soon to start teaching about the law, however, with this age group the best advice is to keep the message simple and short. You should only try to "teach" or talk about one or two big concepts - like why are rules important, what does it mean to be responsible, etc. One of the best ways to do this is by reading a story and then asking questions to help students apply the information to their own lives. Young people this age will have lots of questions, energy and stories to tell you.
Upper Elementary (Grades 3-6 or youth ages 8-11)
Courts

Laws and Decision-making

Middle to High School
Laws and Decision-making

High School Seniors
Rights and Responsibilities

| | |
| --- | --- |
| Law Day 2014 Planning Schedule | |
| February - May 2014 | Law Day 2014 Lesson Plans and Resources Available |
| May 1, 2014 | Law Day |
| May 1-31, 2014 | Schools, Judges & Lawyers Celebrate the Law |
Please call the PBA at 800-932-0311, ext. 2256, with any questions. You may also email your questions to lawday@pabar.org.
Click here for information on 2013 and the PBA's previous years' Law Day celebrations.