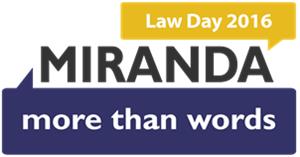 The American Bar Association has selected the 2016 Law Day theme, "Miranda: More than Words," in recognition of the 50th anniversary of the U.S. Supreme Court decision in Miranda v. Arizona.
Pennsylvania takes a slightly different approach to observing Law Day by focusing on children. Through classroom visits by lawyers and judges and an outstanding set of free law-related lesson plans prepared for K-College classrooms, the Pennsylvania Bar Association and county bar associations across the commonwealth work with schools to educate children about their legal rights and responsibilities in the new millennium. The free lessons and materials are designed to be informative and engaging for all students. Law Day provides Pennsylvania lawyers and judges with a wonderful opportunity to become involved in their local communities. Law Day is funded by the Pennsylvania Bar Foundation.
Please click on the following links to learn more about how you can get involved in this program.
Law Day 2016 Program Information
Law Day 2015 Program Information
Law Day 2014 Program Information
Law Day 2013 Program Information
Law Day 2012 Program Information
Law Day 2011 Program Information
Law Day 2010 Program Information
Law Day 2009 Program Information
Law Day 2008 Program Information
Law Day 2007 Activities
Law Day 2007 Law-Related K-College Lesson Plans

Law Day 2006 Activities
Law Day 2006 Law-Related K-College Lesson Plans
Law Day 2005 Activities
Law Day 2005 Law-Related K-College Lesson Plans
Law Day 2004
Law Day 2004 Law-Related K-College Lesson Plans
Law Day 2003
Law Day 2003 Law-Related K-College Lesson Plans
Law Day 2002
Law Day 2002 Law-Related K-College Lesson Plans
Law Day 2001
Law Day 2001 Law-Related K-College Lesson Plans
Law Day 2000
Law Day 2000 Law-Related K-College Lesson Plans
The lesson plans are in pdf format. To view this item, you need to use Adobe Acrobat Reader. If you need to download Adobe Acrobat Reader, go to www.adobe.com
Send all Law Day inquiries to lawday@pabar.org