3rd Annual Legal Aid Fundraiser by BLI Alum McComsey in Center Valley, Nov. 20, 2014
Jill Kelly McComsey, graduate of the Pennsylvania Bar Association's 2011-12 PBA Bar Leadership Institute class and Zone 2 co-chair for the PBA Young Lawyers Division, has led a charge in recent years to raise funds for North Penn Legal Services. She, along with two other young leaders from the Lehigh Valley, Lauren Sorrentino and Alison Wasserman, planned the first annual "Raise a Glass to Justice" event in the summer of 2012. Read about the fun and fund-raising success of the 3rd annual event.
Lehigh Valley Fair Housing Summit, April 24, 2014
The Lehigh Valley Association of REALTORS, in partnership with North Penn Legal Services, hosts the Lehigh Valley Fair Housing Summit on April 24 at the Holiday Inn, Allentown. The summit will be worth 3.5 hours of continuing education credit for Realtors and two substantive CLE credits for attorneys. Find out more on the North Penn Legal Services website.
North Penn Legal Services 'Raise a Glass to Justice' Fundraiser, Oct. 17, 2013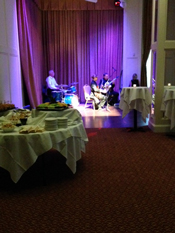 Child Advocacy Program Offers Three Hours of CLE, May 24, 2011
Bar Association of Lehigh County Annouces Pro Bono Recruitment Program, January 2011
Lehigh County Pro Bono Options, 2010
County Bar Contact Information