Jewell Honored with PBA's Ernico Award at Lancaster Event, Feb. 27, 2013
The Pennsylvania Bar Association's Legal Services to the Public Committee honors late Lancaster lawyer Kenneth R. Jewell with its Jeffrey A. Ernico Award. Read more about the award.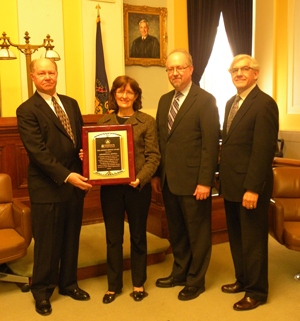 In the photo above Caroline Hoffer, Chair of the Memorial Resolution Committee, accepts the award for Jewell's widow, Rosemary, from Jeffrey A. Ernico, with, to her left, Matthew J. Creme Jr., PBA immediate past president, and Samuel W. Milkes, executive director of the Pennsylvania Legal Aid Network, in attendance.
Remarks by PBA President Matthew J. Creme Jr. Calling for Support of Civil Legal Aid at LBAF Event, Sept. 22, 2011
MidPenn Legal Services Lancaster County Office Fact Sheet, FY 2010-11
MidPenn Legal Services Program-Wide Fact Sheet, FY 2010-11
2011 Pro Bono Awards for Lancaster
Eric Rothermel: Rothermel was admitted to the practice of law in Pennsylvania in October 2009. He has made pro bono service part of his practice from the very beginning. He took his first pro bono case through the Volunteer Attorney Program in September 2009 and has handled 11 pro bono matters since then, including one custody case which required over 100 hours of work. He also serves as a co-coordinator of Lancaster County's Wills for Heroes program, which, through a team of volunteer attorneys and paralegals, provides free estate planning services to our county's primary responders (fire, police, EMT) and their spouses. In addition, Rothermel has assisted low-income taxpayers with tax return preparation through the Volunteer Income Tax Assistance program
Angela Flouras Rieck: Rieck began her career as a judicial clerk, then entered private practice in October 2008. She immediately became active in the Volunteer Attorney Program and has handled 11 pro bono custody and Protection From Abuse cases since then. In addition, she has served since 2009 on Lancaster County's Youth Aid Panel, a panel of community members which works with first-time juvenile offenders and their parents to foster satisfactory alternative resolutions. She has also volunteered her time with the Wills for Heroes program, which provides free estate planning assistance to primary responders (police, fire, EMT).
MidPenn Legal Services Lancaster County Office Fact Sheet, FY 2009-10
MidPenn Legal Services Program-Wide Fact Sheet, FY 2009-10
Susan K. Danforth to Receive 2010 PLAN Award March 23
Wills for Heroes Event in Lancaster County, Jan. 9, 2010
Lancaster County Pro Bono Options, 2010
MidPenn Legal Services Lancaster County Office Fact Sheet, FY 2008-09
MidPenn Legal Services Program-Wide Fact Sheet, FY 2008-09
MidPenn Legal Services and SouthEast Lancaster Health Services Form Medical Legal Partnership for Families, January 2008
Local MidPenn Office Information Sheet, 2007
County Bar Contact Information
Lancaster Bar Past Presidents Hit the Road
Carolyn Hetrick Receives Pro Bono Award
Lancaster Bar Foundation Custody Attorney Campaign