| | |
| --- | --- |
| Wills for Heroes | |
A program co-sponsored by the Pennsylvania Bar Association's Young Lawyers Division, "Wills for Heroes" provides free basic estate planning documents to first responders in Pennsylvania. "Wills for Heroes" provides police, fire and emergency medical personnel - those on the frontlines for our personal safety - the tools they need to prepare adequately for the future. Programs are staffed by lawyer volunteers and are conveniently offered to first responders at meeting halls and police and fire stations.
Want to Bring Wills for Heroes to your County?
Click here for a list of county coordinators, or for more information, contact the YLD or the Pennsylvania program Directors Dan McKenna or Lisa Shearman.
Want to Be a Volunteer? Click here.
Are You a First Responder? Click here for more information.
Upcoming W4H County Events
Oct. 4, 2014, Lackawanna County Emergency Communication Center, "911 Center," Lackawanna County
Dec. 6, 2014 – Chester County Public Safety Training Campus, Chester County
Dec. 6, 2014, Lancaster County Public Safety Training Center, Manheim, , Lancaster County.
Feb. 7, 2015 - Tinicum Township Fire Company, Delaware County
AWARDS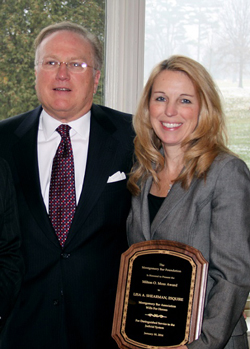 Montgomery Bar Foundation President Steven H. Lupin (left) presents the Milton O. Moss Award to Lisa A. Shearman for her work as national affiliate director of the Wills for Heroes Program. Shearman, an attorney with Hamburg, Rubin, Mullin, Maxwell & Lupin PC, is also a Pennsylvania statewide coordinator for Wills for Heroes. Since the beginning of the bar foundation in 1987, the bar foundation has honored Judge Moss by presenting the award to a Montgomery County resident who has provided exceptional service in support of the justice system.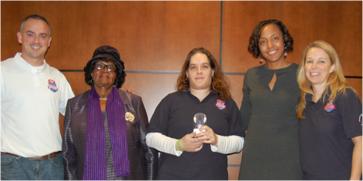 The 2013 Verdina Y. Showell Award winner is Sandra A. Romaszewski, shown above holding the award, with, from left, PBA Wills for Heroes Co-Chair Dan McKenna; Gertrude Showell, Verdina's mother; Dr. Nakiya Showell, Verdina's daughter; and Wills for Heroes Co-Chair Lisa Shearman. Read the news release. Click here for previous Verdina Y. Showell Award recipients.
Read about the Verdina Y. Showell Award.

Carolyn Capobianco Receives 2012 PBA Pro Bono Partner Award

Christina Fisher Receives 2012 PBA Pro Bono Award

Cindy J. Geib Receives Inaugural Pennsylvania Bar Association 'Wills for Heroes' Award

Daniel J. T. McKenna Receives Alan J. Davis Award from His Firm for Leading Ballard Spahr's "Wills for Heroes" Team, July 2009


County Bar Support for Wills for Heroes
Montgomery Bar Association Wills for Heroes Program News, May 2010