| | |
| --- | --- |
| Wills for Heroes | |
A program co-sponsored by the Pennsylvania Bar Association's Young Lawyers Division, "Wills for Heroes" provides free basic estate planning documents to first responders and military veterans in Pennsylvania. "Wills for Heroes" provides police, fire, emergency medical personnel, other first responders and military veterans - those on the frontlines for our personal safety - the tools they need to prepare adequately for the future. Programs are staffed by lawyer volunteers and are conveniently offered to first responders at meeting halls and police and fire stations.
Want to Bring Wills for Heroes to your County?
Click here for a list of county coordinators, or for more information, contact the YLD or the Pennsylvania program Directors Dan McKenna or Lisa Shearman.
Want to Be a Volunteer? Click here.
Are You a First Responder or Military Veteran? Click here for more information.
Upcoming W4H County Events
Oct. 10 – Birdsboro American Legion, Berks County
Oct. 17 - Lancaster County Public Safety Training Center, Lancaster County
Nov. 7- Pike County Emergency Training Center, Pike County
Nov. 14 - Moon Township Police Department, Robert Morris University, Allegheny County
Jan. 30, 2016 - University of Pittsburgh Police Department, Allegheny County
December 2014 Event Marks More Than 1,000 Wills for Heroes Now Completed in Lancaster County
At the Wills for Heroes event on Dec. 6, 2014, Lancaster County lawyers marked the milestone of having assisted more than 1,000 first-responders complete wills. Shown below at the event, from left, are Jon Koltash, PBA YLD treasurer; Cindy Geib; Eric Rothermel, Lancaster County Wills for Heroes coordinator; and Lars Anderson, PBA YLD chair.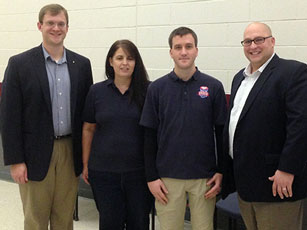 Wills for Heroes Training and Event in Hershey, Sept. 26-27, 2014
Following a training session for Wills for Heroes program county coordinators on Sept. 26, a Wills for Heroes event was held Sept. 27 in Hershey. Below are photos from the event.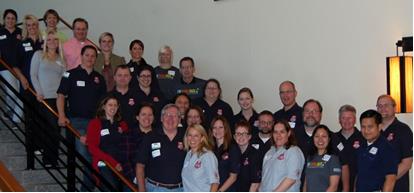 Wills for Heroes county coordinators and program supporters.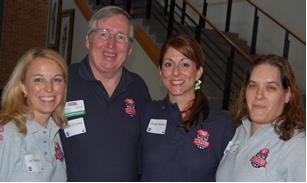 From left, PBA President Francis X. O'Connor; Lisa Shearman, Wills for Heroes statewide co-coordinator; Claudia Williams, associate general counsel, The Hershey Company; and Sandy Romaszewski, Bucks County Wills for Heroes coordinator and trainer with Shearman for the Sept. 26 training program.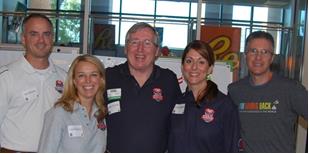 From left, Dan McKenna, Wills for Heroes statewide co-coordinator; Shearman; O'Connor; Williams; and Sam Koda of Harsco Corp.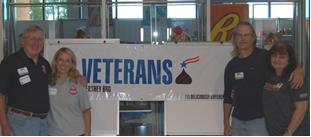 At left, O'Connor and Shearman; at right, Air Force veteran Michael E. Danielczyk and wife Kathy, a Hershey employee, both of whom had their wills done during the event.
Giving Back through Wills for Heroes Event at Centre Square Fire Station, Montgomery County, Sept. 20, 2014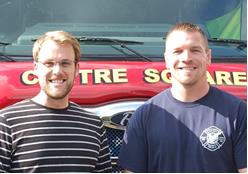 When a fire started last December at his home in Gwynedd Valley, William G. Roark received assistance from four fire departments, including the Centre Square Fire Company. So Roark decided to give back by organizing and supporting a Wills for Heroes event at the Center Square station. Shown above are Roark, left, and Rick Smith, Centre Square Fire Company deputy fire chief.
AWARDS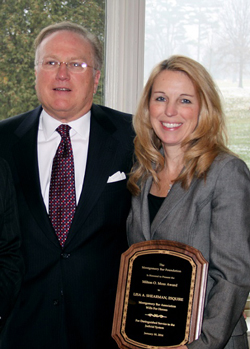 Montgomery Bar Foundation President Steven H. Lupin (left) presents the Milton O. Moss Award to Lisa A. Shearman for her work as national affiliate director of the Wills for Heroes Program. Shearman, an attorney with Hamburg, Rubin, Mullin, Maxwell & Lupin PC, is also a Pennsylvania statewide coordinator for Wills for Heroes. Since the beginning of the bar foundation in 1987, the bar foundation has honored Judge Moss by presenting the award to a Montgomery County resident who has provided exceptional service in support of the justice system.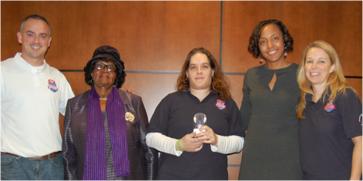 The 2013 Verdina Y. Showell Award winner is Sandra A. Romaszewski, shown above holding the award, with, from left, PBA Wills for Heroes Co-Chair Dan McKenna; Gertrude Showell, Verdina's mother; Dr. Nakiya Showell, Verdina's daughter; and Wills for Heroes Co-Chair Lisa Shearman. Read the news release. Click here for previous Verdina Y. Showell Award recipients.
Read about the Verdina Y. Showell Award.

Carolyn Capobianco Receives 2012 PBA Pro Bono Partner Award

Christina Fisher Receives 2012 PBA Pro Bono Award

Cindy J. Geib Receives Inaugural Pennsylvania Bar Association 'Wills for Heroes' Award

Daniel J. T. McKenna Receives Alan J. Davis Award from His Firm for Leading Ballard Spahr's "Wills for Heroes" Team, July 2009


County Bar Support for Wills for Heroes
Montgomery Bar Association Wills for Heroes Program News, May 2010