Erie County Law Foundation 25th Anniversary Luncheon, Oct. 13, 2014
The Erie County Bar Association invites you to the Erie County Law Foundation 25th Anniversary Luncheon benefitting the Chief Justice Samuel J. Roberts Scholarship Fund. $35/individual paid reservation and seating requests due by Oct. 6. Location: Sheraton Bayfront Erie Hotel 3 State Street, Erie.
Baxter Takes Sideburns Contest and $300 for Northwestern Legal Services, August 2013
One of the contests held during Erie's ongoing commemoration of the 200th anniversary of Commodore Oliver Hazard Perry's naval victory in the War of 1812 Battle of Lake Erie was the Perry Burns Competition to grow sideburns most like Perry's. Besting 17 other competitors, David Baxter of Northwestern Legal Services (NWS) won the contest, collecting a Perry T-shirt, gift certificate, beer stein and $300 for the nonprofit of his choice. His choice? As you might expect, it was NWS!! Baxter is shown below displaying his winning sideburns and the commemorative check to NWS.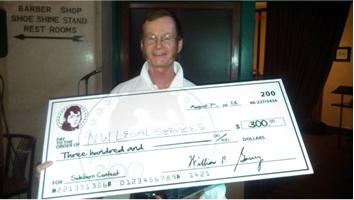 Eighth Annual Law Day 5K Run/Walk, April 30, 2011
Rick Filippi Honored as 2010 Pro Bono Attorney of the Year
Erie County Pro Bono Options, 2010
Northwestern Legal Services Celebrates 40 Years of Service, May 2009
Northwestern Legal Services Launches New Media Blog, January 2008
County Bar Contact Information
Pro Bono Opportunities in Erie County
Erie County Begins Nonprofit Pro Bono Services 2006
March 2006 County Bar Recognition Award
Erie County Bar Association Presents Award
Nonprofit Partnership To view the attached PDF, open it and from the tool bar select View, then from the drop-down menu select Rotate View, then select Counterclockwise.