Skiba Named 2016 Erie County Pro Bono Attorney of the Year
Pictured below is Bridget Gillespie, PBA Director of Western Pennsylvania Services, presenting the Pro Bono Award to Gary Skiba. The PBA joined with the Erie County Bar Association and Northwestern Legal Services to honor Skiba, of Yochim, Skiba and Nash, for his work, primarily in bankruptcy, on behalf of the civil legal needs of Erie's low-income community. Skiba's pro bono work allowed a client to discharge her student loan in bankruptcy, giving her a much-needed fresh start. He has been an active volunteer since the county's Legal Aid Volunteer Attorney program began in 1982, representing more than 30 individuals over the years. Read more at https://www.nwls.org/ProbonoAwards.htm.

Barnett Honored as Erie County 2015 Pro Bono Attorney of the Year, December 2015
The Erie County Bar Association and Northwestern Legal Services have honored Adam Barnett as Pro Bono Attorney of the Year for his dedicated work on behalf of the civil legal needs of the low-income community in Erie. Completing three cases in 2014, one that started in 2011 and two that started in 2013, Barnett represented low-income clients in the defense of civil lawsuits in which the indigent clients faced potential liability of several thousands of dollars, devoting more than 46 hours of billable time to those pro bono cases. Read more.
Wills for Heroes Clinic, Sept. 26, 2015
The Pennsylvania Bar Association Young Lawyers Division and the Wills for Heroes Foundation, with sponsorship by Ballard Spahr LLP, are hosting upcoming events across Pennsylvania. At these events, free wills and powers of attorney are prepared for police officers, firefighters and other first responders who risk their lives every day to make sure our communities are safe. Programs are staffed by lawyer volunteers and are conveniently offered to first responders at meeting halls and police and fire stations. On Sept. 26, volunteer lawyers will be conducting a Wills for Heroes program for all Pennsylvania first responders (active and retired), all sworn personnel and their spouses, partners or significant others. The event will be held at the Erie County Public Safety Building, 2880 Flower Rd., Erie, beginning at noon. If you have any questions about this event, please contact Melissa Shirey at mhshirey@eriefamilylaw.com. For more information on the Wills for Heroes program, see https://www.pabar.org/public/yld/Projects/willsforheroesyld.asp.
Erie County Law Foundation 25th Anniversary Luncheon, Oct. 13, 2014
The Erie County Bar Association invites you to the Erie County Law Foundation 25th Anniversary Luncheon benefitting the Chief Justice Samuel J. Roberts Scholarship Fund. $35/individual paid reservation and seating requests due by Oct. 6. Location: Sheraton Bayfront Erie Hotel 3 State Street, Erie.
Baxter Takes Sideburns Contest and $300 for Northwestern Legal Services, August 2013
One of the contests held during Erie's ongoing commemoration of the 200th anniversary of Commodore Oliver Hazard Perry's naval victory in the War of 1812 Battle of Lake Erie was the Perry Burns Competition to grow sideburns most like Perry's. Besting 17 other competitors, David Baxter of Northwestern Legal Services (NWS) won the contest, collecting a Perry T-shirt, gift certificate, beer stein and $300 for the nonprofit of his choice. His choice? As you might expect, it was NWS!! Baxter is shown below displaying his winning sideburns and the commemorative check to NWS.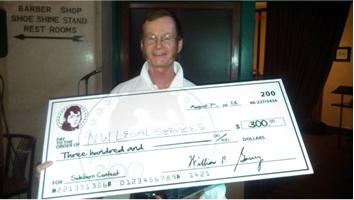 Eighth Annual Law Day 5K Run/Walk, April 30, 2011
Rick Filippi Honored as 2010 Pro Bono Attorney of the Year
Erie County Pro Bono Options, 2010
Northwestern Legal Services Celebrates 40 Years of Service, May 2009
Northwestern Legal Services Launches New Media Blog, January 2008
County Bar Contact Information
Pro Bono Opportunities in Erie County
Erie County Begins Nonprofit Pro Bono Services 2006
March 2006 County Bar Recognition Award
Erie County Bar Association Presents Award
Nonprofit Partnership To view the attached PDF, open it and from the tool bar select View, then from the drop-down menu select Rotate View, then select Counterclockwise.