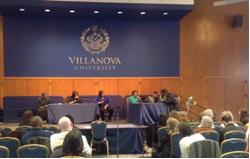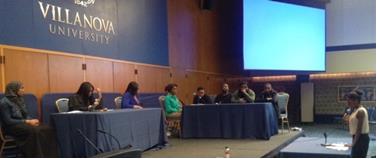 Youth Court, supported by the PBA as an alternative to the school-to-prison pipeline, was featured on March 18 at Villanova University. The university's Center for Peace and Justice Education, in conjunction with the Augustinian Peace and Justice Office, hosted the one-day forum on how the principles of restorative justice can help pave the way to resolving disputes and healing broken relationships throughout society. University of Pennsylvania law students who have worked all year with PBA partner EducationWorks and its Youth Court Support Center, with YCSC head Gregg Volz, helped train the Beeber Middle School Youth Court featured in these photos. The students conducted a mock hearing as part of the Restorative Justice Coalition Conference. The Strawberry Mansion High School Youth Court, trained through a partnership with the U.S. Attorney's Office for the Eastern District of Pennsylvania, also made a presentation and were equally impressive in presenting the Youth Court model.
First Annual Social Justice Award Gala Honors Edgar S. Cahn, Sept. 10, 2015
On Sept. 10 the PBA will be front and center at the National Constitution Center (NCC) in Philadelphia for the First Annual Social Justice Award Gala honoring Edgar S. Cahn. The attached announcement and article provide information about Cahn and the award ceremony. In the past four years the PBA, ABA, Philadelphia Bar and Philadelphia City Council all passed resolutions supporting youth courts. PBA-supported youth court efforts are underway for the new school year in Allegheny, Bucks, Chester, Dauphin, Delaware, Franklin, Montgomery, Philadelphia and Westmoreland counties. The U.S. Attorney's Office for the Eastern District of Pennsylvania has provided both money and staff to the effort in the southeastern Pennsylvania area. There are also events with Cahn bracketing the NCC celebration on Sept. 9 at Swarthmore College, with the PBA Pro Bono Office presenting the annual Swarthmore College Edgar and Jean Camper Cahn Law and Social Justice Award honoring college students helping the Chester City youth courts, and on Sept. 11 the University of Pennsylvania Law School's Toll Public Interest Center will host a program on youth courts with Cahn, along with the BALSA students there who do the PBA's Project PEACE Program.
Youth Court CLE Presentation in Philadelphia, April 23, 2014
The Pennsylvania Bar Association's Pro Bono Office, in partnership with the U.S. Attorney's Office and the Youth Court Support Center at Education Works, held a free Youth Court CLE seminar on April 23, 1-4 p.m. at the U.S. Attorney's Office for the Eastern District of Pennsylvania, 615 Chestnut Street, 8th Floor Conference Room, in Philadelphia. The seminar featured distinguished speakers from the legal, educational and medical communities who explored youth courts as a preventative strategy to reduce violence and terminate the school-to-prison pipeline. Click on the following links for more information.