2014 Winner, Naudia Williams
Naudia Williams, a 2014 graduate of Swarthmore College, received the fourth annual Swarthmore College Edgar and Jean Camper Cahn Law and Social Justice Award on June 1, 2014. Shown below with Williams are, from left, David Trevaskis, PBA pro bono coordinator and award presenter; Swarthmore professor Ben Berger; Gregg Volz, director of the Regional Youth Court Support Center at EducationWork; and Maurice Eldridge, Swarthmore vice president for College and Community Relations and executive assistant to the president. Read more.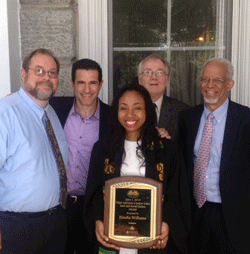 2013 Winner, Jennifer Kaur Koch
Shown below, Jennifer Kaur Koch, center, receives her award. Read more.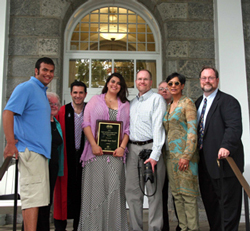 2012 Winner, Sofia Saiyed
Shown below, Sofia Saiyed received her award. Read more.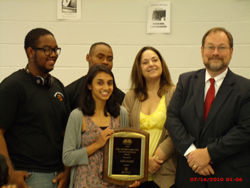 2011 Winner, Shilpa Boppana
Read more and see photos from the award presentation.