The PBA Pro Bono Office joined with the ABA Standing Committee on Pro Bono and Public Service to sponsor the second annual National Pro Bono Week celebration at the end of October 2010. National Pro Bono Week is an opportunity to celebrate the difference lawyers make in communities, to recruit and train more pro bono volunteers and to acknowledge the partnerships that form the basis for many of the private bar's successful pro bono efforts. Pennsylvania has been a national leader in the National Pro Bono Week celebration, with events at many sites across the commonwealth. Seventeen pro bono awards were presented by PBA leaders from Oct. 26 through Nov. 4 as part of an extended National Pro Bono Week series of events. From a lunch and CLEs in Reading under the auspices of the Berks County Bar Association to a thank-you of coffee and pastries from the Allegheny County Bar Association, National Pro Bono Week provided numerous chances to highlight the good work of Pennsylvania attorneys. See the links below for more information.
2010 National Pro Bono Week
ABA 2010 National Pro Bono Week Links
Allegheny County 'Thanks a Latte'
Allegheny County Bar Foundation pro bono guru Barbara Griffin celebrated National Pro Bono Week by honoring volunteers at various legal aid sites with coffee and other goodies, all part of her "Thanks A Latte" effort.
Cumberland County
Members of the Cumberland County Bar Association participated in public service events at two locations during National Pro Bono Week. The Very Important Papers (VIP) Program was held at the Fredricksen Library in Camp Hill on Oct. 26 and at the Bosler Library in Carlisle on Oct. 27. The CCBA membership recognizes that many Cumberland County residents do not have their Very Important Papers (i.e., Wills, Trusts, Power of Attorneys and Advance Health Directives) in order. Members of the Cumberland County Bar Association were available to review and distribute the VIP inventory brochure.
Five Facts of Public Interest at Carlisle's Penn State Law
Bucks County
On Oct. 27, 2010, the Bucks County Bar Association held a reception to honor its pro bono volunteers. BCBA President Timothy J. Duffy, bar Pro Bono Coordinator Lisa D. Woodward, Legal Aid of Southeast Pennsylvania Co-Director Elizabeth Fritsch, LASP Pro Bono Coordinator Randi Riefner and PBA Pro Bono Coordinator David Trevaskis all lauded the volunteers for their service. Linda Shick was presented with a PBA Pro Bono Award for going above and beyond in her pro bono commitment as she is often heard telling legal aid folks to "load me up."
Dickinson (Penn State) School of Law
Franklin County
In Franklin County on Oct. 27, 2010, a luncheon was held to honor pro bono volunteers. PBA Pro Bono Coordinator David Trevaskis joined local judges and Franklin County Bar President John Keller, Pro Bono Coordinator Anne M. Shepard and Executive Director Carolyn Seibert-Drager in honoring all volunteers. Kevin M. Taccino was honored with a PBA Pro Bono Award for regularly handling pro bono cases for MidPenn Legal Services, Franklin County Legal Services and the Law Offices of WIN Victim Services.
Schuylkill County
On Oct. 28, 2010, the Schuylkill County Bar Association and Pennsylvania Supreme Court Justice J. Michael Eakin took some time during the local bench/bar conference to celebrate pro bono week and pro bono service. SCBA President William L. J. Burke joined Justice Eakin, PBA Pro Boo Coordinator David Trevaskis and PBA County Bar Services head Michelle Shuker in celebrating Schuylkill County pro bono efforts. Local attorney Jeffrey Bowe was honored with the PBA Pro Bono Award.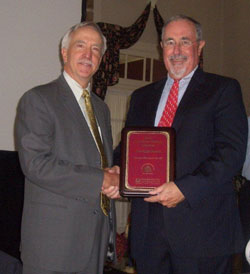 Jeffrey Bowe, left, receives his Pro Bono Award from State Supreme Court Justice J. Michael Eakin. Read more about the PBA Pro Bono Week awards.
'Lawyers as Rescue Workers: A Pro Bono Week Reflection'
Sharon Browning, former Executive Director of the Philadelphia VIP (Volunteers for the Indigent Program) and a longtime public interest lawyer, posted this article on her "JUST Listening" blog on Oct. 10, 2010, offering some thoughts on pro bono on the occasion of National Pro Bono Week. It offers two stories clients in need, one with a happy ending provided by a caring pro bono attorney and the other a tragic story of someone who needed help but did not find it.