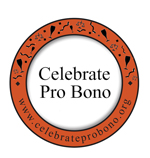 The Pennsylvania Bar Association has resolved to designate the last week of every October as Pennsylvania Pro Bono Week, and the PBA Board of Governors has directed that a copy of the resolution be forwarded to the governor of Pennsylvania, the Administrative Office of Pennsylvania Courts and the General Assembly asking that they officially acknowledge Pennsylvania Pro Bono Week each year. This year Pennsylvania Pro Bono Week will be celebrated the week beginning Sunday, Oct. 20. See the list of scheduled events below.
Read the 2013 Pro Bono Week resolutions from the state House of Representatives, the state Senate and the Governor's Office.
Pennsylvania really makes it a Pro Bono Month, so the first event starts with the new month: Sept. 30 through Oct. 4, the Philadelphia Bar Association's Delivery of Legal Services Committee will offer interactive Pro Bono Road Shows, which are 30-minute presentations by selected public interest legal organizations about pro bono opportunities in Philadelphia.
On Oct. 3, Neighborhood Legal Services in Pittsburgh holds a 24 hour fund raising challenge!
On Oct. 15, the Lancaster bar will honor Lancaster attorney Jim Leonard with his 2013 PBA Pro Bono Award at the Lancaster Bench/Bar.
On Oct. 16 there will be a Pro Bono Luncheon and Awards program in Franklin County.
On Oct. 17, the North Penn Legal Services' "Raise a Glass to Justice" Fundraiser will be held at Cosmopolitan in Allentown.
Dauphin County Bar Participates in National Pro Bono Week, Oct. 20-26
Oct. 20-22 - The national Legal Services Corp., the largest single funder of civil legal aid nationwide, will hold its board of directors meeting in Pittsburgh. A panel discussion highlighting pro bono partnerships will be held on the morning of Oct. 21. Panelists will include chair of the Pittsburgh Pro Bono Partnership, Kathryn Kenyon of Pietragallo Gordon Alfano Bosick & Raspanti LLP; Dottie Alke of CBS Corporation; Bob Racunas, Director of Neighborhood Legal Services Association; and Barbara Griffin of the Allegheny County Bar Foundation. Also that day, the Legal Services Corp. Board of Directors will be honoring pro bono counsel from Pennsylvania in a Pro Bono Awards reception in Pittsburgh. The board will be recognizing and presenting awards to eight firms and attorneys from across Pennsylvania. Those being honored were nominated for recognition by LSC recipients in Pennsylvania. The honorees include:

Mary R. Bates, nominated by Southwestern Pennsylvania Legal Services Inc.
Ronald R. Bolig, nominated by Legal Aid of Southeastern Pennsylvania
James P. DeAngelo, nominated by MidPenn Legal Services Inc.
Gregory L. Heidt, nominated by Northwestern Legal Services
Pittsburgh Pro Bono Partnership, nominated by Neighborhood Legal Services Association
Rieders, Travis, Humphrey, Harris, Waters and Waffenschmidt, nominated by North Penn Legal Services Inc.
Joseph A. Sullivan, nominated by Philadelphia Legal Assistance Center
Westmoreland Legal Foundation, nominated by Laurel Legal Services Inc.
The reception will be held from 5:30 to 7 p.m. at the law firm K&L Gates. Speakers at the event will include former Pennsylvania Gov. and U.S. Attorney General Dick Thornburgh and U.S. Rep. Chaka Fattah.
Oct. 21-25 - Pro Bono Pledge. The Public Service Committee and the Pro Bono Center of the Allegheny County Bar Foundation will ask all Pittsburgh-area attorneys to pledge their time to serving the legal needs of low-income individuals in our community through pro bono legal assistance. All Pittsburgh-area attorneys will be asked to take the following pledge: "In recognition of my professional responsibility to increase equal access to justice, I pledge to provide pro bono legal services to at least one individual or organization through a Pro Bono Center program or member organization during calendar year 2014."
On Oct. 21, the SeniorLAW Center will present a pro bono CLE training program, Saving Seniors' Homes: Philadelphia's Fresh Start on Property Tax Delinquencies and its Impact on Reverse Mortgages and Low-Income Senior Citizens, from 12:30 to 2 p.m. (lunch and registration begin at noon), at Saul Ewing LLP, Centre Square West, 1500 Market St., Philadelphia. Register by Wednesday, Oct. 16, with Susanna Ratner at sratner@seniorlawcenter.org. This program will offer 1.5 free CLE credits in exchange for handling one SeniorLAW Center case (one substantive; .5 ethics CLEs).
On Oct. 22 - "Thanks a Latte." Back by popular demand, the Allegheny County Bar Foundation staff and members of the Public Service Committee will personally thank pro bono volunteers with coffee and pastries at Family Court.
On Oct. 22, Philadelphia VIP, the hub of pro bono legal services in Philadelphia, will present its annual training event, Pro Bono Opportunities Day, from 8:30 a.m. to 11:30 a.m., at PECO/Exelon, 2301 Market St., Philadelphia. Presented in a lively and interactive format, including a hands on exercise to kick off the day, this 2.5 Credit Ethics CLE course includes a discussion of Rule 6.1: Pro Bono Publico Service, the role of training in ethical representation, malpractice insurance, models for pro bono participation, and ethical considerations for volunteer attorneys. Special considerations in the representation of low income clients will also be explored. The event will begin with a networking breakfast with Judges from the First Judicial District of Pennsylvania. Each attorney who attends the seminar and accepts a VIP pro bono case within 6 months of the training will earn 2.5 free ethics CLE credits. To register, visit www.phillyvip.org or call 215-523-9550.
On Oct. 22, Washington County hosts a "Thanks a Latte" breakfast for its pro bono panelists.
That evening, Oct. 22, the York County Bar Foundation will hold a reception for major donors and major donor prospects featuring guest speaker Sharon Browning.
On Oct. 23, the Support Center for Child Advocates will host an advanced training program for its Volunteer Child Advocate Attorneys on Law & Ethics: Hot Topics in Child Advocacy, from 8:00 to 9:30 a.m., at 1900 Cherry St., Philadelphia. This program will provide 1.5 Ethics CLE credits. Register with Jodi Schatz at jschatz@advokid.org.
On Oct. 23, the York County bar will be holding a special Pro Bono Celebration Breakfast from 8:00 am - 9:00 am at the Administrative Center, 28 East Market Street - 3rd floor training room in York. The "Thanks for Giving Breakfast" - buffet breakfast for all 2012 Pro Bono caseworkers and alternative service fee donors-- features a short program. The main speaker at the event will be Sharon Browning, who will highlight the Bar's accomplishments and future goals. The program will begin at 8:20 a.m. Please RSVP by Monday, Oct. 14 to Cheryl Kauffman at 717-854-8755x203 or email cheryl.kauffman@yorkbar.com.
Later that same morning, Oct. 23, there will be a Ribbon Cutting & Launch of the York County Court of Common Pleas Self-Represented Litigant Help Center. In conjunction with the York County Bar Foundation, the York County Courts and the York County Economic Alliance (YCEA), the local bar will be conducting a ribbon cutting ceremony for the new Self Help Center which will be located in the York County Judicial Center. Attendees will include the County Commissioners, all State Representatives, Court related officials, members of the Bench and Bar, YCEA staff and YCEA Ambassadors (volunteers from the business community).
On Oct. 23, the First Judicial District (FJD) will hold its 2013 Pro Bono Public Awards Ceremony and Reception. The Awards Ceremony will begin at 4:00 p.m., in the City Hall Law Library, followed immediately by the Reception. The FJD will accept nominations for the Pro Bono Roll of Honor until Sept. 27. To be eligible for the Roll of Honor, an attorney must be in private practice and must have provided pro bono services to a client or client group in a case pending before the FJD Municipal Court or Court of Common Pleas between Oct. 1, 2012, and Sept. 27, 2013.
On Oct. 23, Berks County Bar Pro Bono Week Luncheon and CLE. The Berks bar hosts its annual celebration of legal aid and pro bono service. Click here for the PowerPoint titled "Listening for Lawyers."
On Oct. 24, Lackawanna Pro Bono Gala. Lackawanna Pro Bono Inc., the stand-alone pro bono provider in Scranton, will hold its 5th Annual Gala Fundraiser.
On Oct. 24, dinner celebration honoring Kenneth Shear on his retirement as executive director, Philadelphia Bar Association. Additional details and registration information will be forthcoming at www.philadelphiabar.org/page/EventDetails?appNum=2&eventID=KEN102413.
On Oct. 24, the Public Service Committee, a joint committee of the Allegheny County Bar Association and Allegheny County Bar Foundation, will hold a Volunteer Appreciation Luncheon at the Rivers Club at noon. Volunteers will be recognized for their hard work and dedication on behalf of low-income individuals.
On Oct. 24, North Penn Legal Services and the Wilkes-Barre Law & Library Association, as a part of the ongoing pro bono initiative, will conduct two CLE programs, "How to Ask for Modification Under Fair Housing Law" and "Review of Changes to PA Custody Court Rules," on Oct 24. Read more.
On Oct. 25, "Jeans for Justice" day will be held in Pittsburgh. All funds raised will help to fund "Pro Bono Rocks," which benefits the Allegheny County Bar Foundation's Pro Bono Center and will feature local attorney bands competing for the title of best band.
On Oct. 25, across the state the Go Casual for Justice Fundraiser! will be held at participating Philadelphia law firms and corporations. This jeans day fundraiser will benefit nonprofit legal services providers funded by the Philadelphia Bar Foundation. To participate, contact the co-chairs of the Philadelphia Bar Association's Law Firm Pro Bono Committee: Kathy Ochroch at 215-569-5711 or ochroch@blankrome.com or Mary Gay Scanlon at 215-864-8912 or scanlonm@ballardspahr.com.
On Oct. 25, HIAS Pennsylvania will present a CLE training program on Asylum Law and Related Relief, 2:15 to 3:30 p.m. (lunch will be provided), at Morgan Lewis, 1701 Market St., Philadelphia. This program will provide three free substantive CLE credits in exchange for handling a pro bono case from HIAS within six months of the training. For more information, contact 215-832-0900. To register, visit www.phillyvip.org/.
On Oct. 25, at the City Mission in Washington, noon to 4 p.m., there will be a CLE: Pro Bono Roundup (3s/1e) on Housing, Divorce, Custody and PFA issues as well as the Rules of Professional Conduct that pertain to pro bono responsibilities. Presented by Southwestern PA Legal Aid attorneys and Mary Bates, City Mission Legal Clinic. Free CLE for attorneys who are panelists (or signing up to be) of any of WCBA's pro bono programs (Legal Aid Conflict, Modest Means, the new Limited Representation Custody) or the City Mission's Legal Clinic.
On Oct. 25, Access to Justice Pro Bono CLE Seminar, sponsored by the Chester County Bar Association Pro Bono Committee.
On Oct. 26, Wills for Heroes Clinic, Bucks County. The PBA Young Lawyers Division (YLD) and the Wills for Heroes Foundation host events across Pennsylvania. At these events, free wills and powers of attorney are prepared for police officers, firefighters and other first responders who risk their lives every day to make sure our communities are safe. Programs are staffed by lawyer volunteers and are conveniently offered to first responders at meeting halls and police and fire stations. On Saturday, Oct. 26, as part of Pennsylvania Pro Bono Week, volunteer lawyers will be conducting a Wills for Heroes Program for all active and retired Pennsylvania first responders of the Central Bucks Ambulance & Rescue Unit, all sworn personnel and their spouses or significant others (please note that proof of your affiliation will be requested at the event). The event will be held at the Central Bucks Ambulance & Rescue Unit, 455 East St., Doylestown, beginning at 9 a.m. If you have any questions about this event, please contact Jennifer Murphy, jennimurphy@comcast.net, or Sandy Romaszewski, sromaszewski@foxrothschild.com. For more information on the program, visit the Wills for Heroes Foundation at www.willsforheroes.org and the PBA YLD Wills for Heroes webpage.
On Oct. 28, Lebanon County Pro Bono Celebration and CLE Program. The Lebanon bar is hosting its first-ever Pro Bono Week CLE to accompany its annual Pro Bono Award presentation. PBA Pro Bono Coordinator David Trevaskis will host two free CLE sessions for local attorneys and judges.
On Oct. 28, at the George Washington Hotel in Washington, there will be a 11:45 a.m. Lunch & Bar Meeting with a noon CLE & Pro Bono Celebration. A panel of local attorneys (Mary Bates, moderator; Becky Bowman, David Rundquist and Bill Speakman) will present a program on the Rules of Professional Responsibility and provide personal perspectives on their pro bono experiences in Washington County. Free CLE for attorneys who are panelists for any of WCBA's pro bono programs (Legal Aid Conflict, Modest Means, the new Limited Representation Custody) or the City Mission's Legal Clinic.
On Oct. 30, the Pennsylvania Bar Institute will present How to Handle a Child Abuse Case, a Support Center for Child Advocates Volunteer Training Workshop, from 9:00 a.m. to 4:30 p.m. (breakfast offered at 8:30 a.m.; lunch on your own) at the PBI CLE Center, Wanamaker Building, 10th Floor, Suite 1010, Market and Juniper Streets, Philadelphia. This program will provide six CLE credits, one of which may be applied toward ethics. To register, visit www.pbi.org or call 800-247-4724.
On Oct. 30, Bucks County Pro Bono Nonprofit Community Vendor Fair and Reception. The local bar is having its annual Pro Bono Reception on Oct. 30 from 5 p.m. to 7 p.m. In addition, earlier that afternoon, the bar is having a "Vendors Fair" of sorts. The Bucks County bar has invited 25 nonprofits from the county to come in and set up information tables in the conference room. They are calling it "How Can We Help." It's an effort to get these nonprofits some exposure with the legal community and at the same time help them recruit bar members for the various needs they may have. Get more information about the event.
Oct 30: The Third Annual Judicial, Government and Public Interest Law Reception
The University of Pittsburgh School of Law and Duquesne University School of Law proudly host The Third Annual Judicial, Government and Public Interest Law Reception on Oct. 30, 5-7 p.m., in the Power Center Ballroom at Duquesne University. Join Pitt Law dean William M. Carter Jr. and Duquesne Law dean Ken Gormley in celebrating the schools' mutual goals and the many clerkships, externship, and pro bono and public interest law career opportunities available in our region. Hors d'oeuvres served. RSVP at 412-396-6559 or lawcareers@duq.edu.
On Oct. 31, Lunch & Learn Seminar all about York County Bar Association pro bono opportunities, with free CLE, sponsored by the Young Lawyers Section. Get more information.
On Nov. 9, Pro Bono Rocks!, Battle of the Attorney Bands, will be held from 6:30 to 11 p.m. at The Showroom, Dave & Buster's at the Waterfront in Pittsburgh. This event will feature local attorney bands competing for the title of best band. Proceeds benefit the Pro Bono Center of the Allegheny County Bar Foundation, which creates and manages programs that match low-income individuals facing critical legal issues with volunteer attorneys and legal services programs. Tickets are now on sale for Pro Bono Rocks!