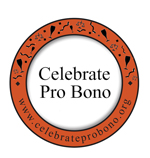 The last week in October 2012 has been proclaimed Pennsylvania Pro Bono Week by Gov. Tom Corbett and the General Assembly. Pennsylvania Pro Bono Week is an opportunity to highlight the difference lawyers make in their communities, to recruit and train more pro bono volunteers and to acknowledge the partnerships that form the basis for many of the private bar's successful pro bono efforts. Pennsylvania has been a national leader in the now four year old American Bar Association National Pro Bono Week celebration, with events at many sites across the commonwealth. From events such as the Annual Berks County Pro Bono Celebration on Oct. 23 in Reading featuring longtime legal aid advocate and pro bono champion, former Pennsylvania Governor and U.S. Attorney General Dick Thornburgh to the PBA's 7th Annual Diversity Summit on the Oct. 26, with many other events scattered across the state Pennsylvania Bono Week will highlight the good work of Pennsylvania attorneys.
2012 Pro Bono Week Events Planned Across Pennsylvania
For a list of and links to some of the many events planned for 2012 Pro Bono Week, click here.
As part of the 2012 celebration of Pro Bono Week (Oct. 21-27), a JUST Stories "video quilt" is featured on the celebration website at www.paprobono.net. Click here for videos by Chief Justice of Pennsylvania Ronald D. Castille; Cathy Carr, executive director of Community Legal Services in Philadelphia; Todd A. Hoover, president judge, Dauphin County; and others from Pennsylvania. These stories have the potential to inspire and connect others to the essential work of providing legal assistance to those living on the social margins. The PBA Pro Bono Office will be adding videos to the "quilt" and hopes to compile a library of these short, powerful videos in which pro bono attorneys, legal aid professionals and other members of the public interest legal community describe their own experiences as advocates. Tell us how you changed your client's story and made it a JUST story. Send in a short (less than two minutes) video of yourself or someone in your organization telling four things:
1. Your/their name
2. What you/they did for the client
3. How it changed the client's life
4. How it changed your life

These questions can be used as a script outline. When taping the videos simply print out the questions, hold them up and ask people to answer all four questions. Film yourself, members of your staff, volunteers, and clients, anyone who has a JUST Story to tell. Send them to dkt@pabar.org.
Although statewide in breadth, the Pennsylvania Pro Bono Week Celebration provides an opportunity for local legal associations across the Commonwealth to take the next step in their efforts to provide high quality legal services to those living on the social margins.
A guiding principle of the PBA Pro Bono Office is to support these local efforts and to assist in their growth and effectiveness by providing information, planning guides, resources, and consultation services through this website. The legal needs of the poor are local issues, and this celebration is intended to have a local focus and impact. Goals for the celebration include:

1. Recruiting more pro bono volunteers and increasing legal services to poor and vulnerable people.
2. Mobilizing community support for pro bono.
3. Fostering collaborative relationships
4. Recognizing the pro bono efforts of Pennsylvania's lawyers
Pennsylvania has been a national leader in the National Pro Bono Week celebration of the American Bar Association over the past four years. You can find a ton of resources on the ABA webpages. Take a look at www.probono.net/celebrateprobono/resources/folder.323213-Celebration_In_A_Box. There you will find almost everything needed for a range of celebration events:

A 1 hour Pro Bono "CLE In a Box"
Community Legal Education Program Materials
Civic Speeches
A "Clinic In A Box"
Recruitment Drive materials
Proclamations appropriate for different entities
Use these materials as templates for your own local area. Simply adapt and personalize them for your own use.

Photo by Ben Josielevski, taken in the courtroom of Lackawanna County Judge Carmen D. Minora
Delaware County Pro Bono Gold Card
Gov. Thornburgh, PBA President Wilkinson and PBA Pro Bono Office Take Part in 2012 Pro Bono Week Celebration in Berks County, Oct. 23
Former Pennsylvania governor and U.S. Attorney General Dick Thornburgh was the keynote speaker for the Recognition of the Berks Pro Bono Team luncheon and seminar in Reading during 2012 National Pro Bono Week on Oct. 23. Access the program for the event, which included a PBA Pro Bono Award presentation to Wyomissing lawyer Amy B. Good by PBA President Thomas G. Wilkinson Jr. and CLE seminars by PBA Pro Bono Coordinator David K. Trevaskis. Read Thornburgh's remarks; read Wilkinson's remarks.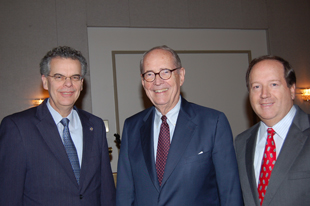 Shown at the Berks County event are, from left, county bar President Frederick K. Hatt, Gov. Thornburgh and PBA President Wilkinson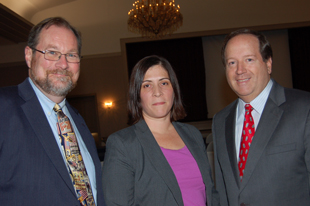 From left, PBA Pro Bono Coordinator David K. Trevaskis, PBA Pro Bono Award recipient Amy B. Good and PBA President Wilkinson
Bucks Pro Bono Reception Honors Martin Ghen, Oct. 24, 2012
Chalfont lawyer Martin N. Ghen received a PBA Pro Bono Award for his volunteer work representing clients in PFA matters during the Bucks County Bar Association's Pro Bono Week reception addressed by PBA President Thomas G. Wilkinson Jr. Click here for Wilkinson's remarks.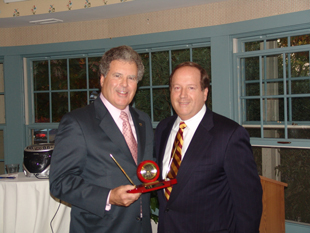 Martin N. Ghen, left, receives his PBA Pro Bono Award from PBA President Thomas G. Wilkinson Jr.
Washington County's First 'Pro Bono Lawyer of the Year' Awardees Bowman and Rundquist Honored Oct. 29, 2012
Attorneys Rebecca A. Bowman and David E. Rundquist Jr. are the recipients of the Washington County Bar Association's inaugural "Pro Bono Lawyer of the Year" award. The attorneys were selected by the bar association's Pro Bono and Lawyer Referral Services Committee for their outstanding contributions of legal services through organized pro bono programs to the indigent of Washington County. Find out more.
Lebanon County Bar Honors C. Walter Whitmoyer as 'Pro Bono Attorney of the Year,' Oct. 25, 2012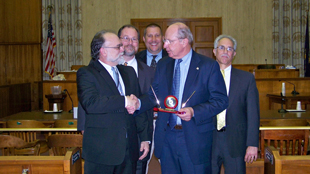 Lebanon lawyer C. Walter Whitmoyer accepts his PBA Pro Bono Award from county President Judge John C. Tylwalk, left, with, in background from left, PBA Pro Bono Coordinator David K. Trevaskis, county Judge Charles T. Jones Jr. and Howard Miskey, director of advocacy for MidPenn Legal Services, looking on