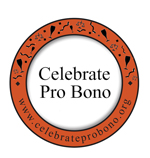 The PBA Pro Bono Office again joined with the ABA Standing Committee on Pro Bono and Public Service to sponsor the annual National Pro Bono Week celebration at the end of October 2011. National Pro Bono Week is an opportunity to highlight the difference lawyers make in their communities, to recruit and train more pro bono volunteers and to acknowledge the partnerships that form the basis for many of the private bar's successful pro bono efforts. Pennsylvania has been a national leader in the National Pro Bono Week celebration, with events at many sites across the commonwealth. See the links below for more information.
SeniorLAW Center Sponsors Volunteer Attorney Training During National Pro Bono Week, Oct. 27
Lackawanna Pro Bono Awards Event, Oct. 27
As part of its Pro Bono Week Celebration, on the evening of Oct. 27, 2011 Lackawanna Pro Bono will be holding its 3rd annual Fundraising Gala. The event will honor attorney Morey Myers and his wife, Sondra Myers, attorney Carlene Gallo, attorney Robert T. Gownley Jr. and PNC Bank with the Robert W. Munley Distinguished Service Award. Cocktails and hors d'oeuvres will be served and a brief program will be held in the ballroom of the Scranton Cultural Center. For further information contact Sylvia Hahn of Lackawanna Pro Bono Inc., (570) 961-2714.
Cumberland County Bar Association Co-sponsors 2011 National Pro Bono Week Public Meetings, Oct. 24 and 26
The Cumberland County Bar Association is partnering with Penn State Dickinson School of Law Family and Elder Protection Clinics and MidPenn Legal Services to sponsor two public-service evening events. Click here for information.
Schedule of Philadelphia Events in Recognition of the 2011 ABA National Pro Bono Week Celebration
Other Local 2011 National Pro Bono Week-Related Events Outside Philadelphia
Nominations Sought for First Judicial District Roll of Honor; Reception During 2011 National Pro Bono Week
The First Judicial District will honor attorneys in private practice who have performed pro bono services in the district during 2011 at a reception to be held during National Pro Bono Week on Oct. 27. For more information, as posted to the Philadelphia Bar Association website, click here.
York County Bar Reception Celebrates 2011 National Pro Bono Week, Oct. 19
PBA Pro Bono Office Invitation to Join the National Online Pro Bono Conversation in October 2011
ABA Announces Plans for 2011 National Pro Bono Week
2011 National Pro Bono Week Planning Webinar Slideshow, July 28, 2011