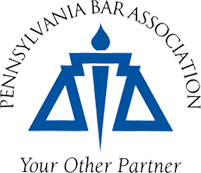 PENNSYLVANIA BAR ASSOCIATION NAMES HARRISBURG LAWYER "GOVERNMENT LAWYER OF THE YEAR"
HARRISBURG (January 2002) - The Pennsylvania Bar Association Government Lawyers' Committee recently honored Gregory E. Dunlap of Harrisburg with its annual "Government Lawyer of the Year Award" during a luncheon held in Harrisburg. This award honors a government lawyer who has made a significant singular contribution or has dedicated his or her career to outstanding service to the profession for the benefit of the public or a governmental entity.
"Greg's quiet professionalism and formidable legal talents have earned the respect of the governors and general counsels he has served and the judges before whom he has appeared," said General Counsel and Government Lawyers Committee Chair James M. Sheehan. "In short, there are few lawyers who have given so much of themselves to public service. Greg truly exemplifies the highest standards of government practice."
Dunlap has served for 12 years as deputy general counsel in the Office of General Counsel (OGC), where he has been the litigation coordinator. He is a member of the OGC Management Committee and serves as the General Counsel's liaison to the chief counsels of the Education and State departments, the State System of Higher Education and the Office of the Budget. He also serves as co-chair of the Federal-State Relations Practice Group and is responsible for coordinating the Judicial Advisory Commission on behalf of the OGC.
In addition to his work in the OGC, Dunlap serves as counsel to the State Board of Education, the Pennsylvania Public Television Network Commission and the Governor's Office of Public Liaison.