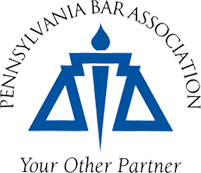 HARRISBURG LAWYER NAMED GOVERNMENT LAWYER OF THE YEAR
- Chief Counsel for the Pennsylvania Department of Public Welfare -
HARRISBURG (Dec. 12, 2000) - The Pennsylvania Bar Association Government Lawyers' Committee recently honored John "Jack" Kane, chief counsel to the Pennsylvania Department of Public Welfare, with its annual "Government Lawyer of the Year Award" during a luncheon held at the Harrisburg Hilton & Towers.
"This award honors a government lawyer who has made a significant singular contribution or has dedicated his or her career to outstanding service to the profession for the benefit of the public or a governmental entity," said James Sheehan, chair of the PBA Government Lawyers Committee. "Jack Kane deserves this award not only for his unwavering commitment to the Department of Public Welfare and the people of Pennsylvania, but also for the way he has conducted himself during his career."
Kane has a distinguished legal career in public service spanning 24 years. Specializing in health care law, Kane has worked diligently to protect Pennsylvania's most vulnerable citizens, including children, the mentally ill, mentally retarded and the poor.
Kane began his legal career in 1976 with the Pennsylvania Department of Public Welfare. He was named chief counsel to the department in 1983.