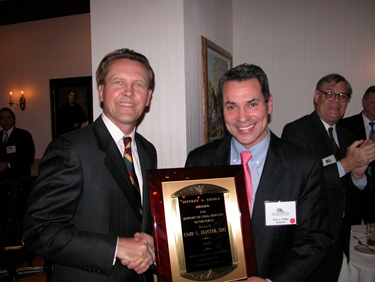 Cary L. Flitter, right, is congratulated by PBA President Ken Horoho Jr.
HARRISBURG (Oct 26, 2006) — The Pennsylvania Bar Association Legal Services to the Public Committee presented its second Jeffrey A. Ernico Award to Montgomery County attorney Cary L. Flitter during the Montgomery County Bar Association's dinner in Norristown tonight. The Ernico Award honors an individual who is working to make significant improvements in providing legal services to the poor.
"The Pennsylvania Bar Association commends Cary for his tireless efforts to protect the legal rights of consumers and for providing pro bono education to fellow lawyers and law students serving the less fortunate," said PBA President Kenneth J. Horoho Jr. "Cary represents clients in cases of unfair debt collection, credit reporting and credit privacy, predatory lending and identity theft. He talks frequently with legal professionals and the public about consumer credit and fraud and how to protect consumer rights in court."
Flitter is a founding partner of Lundy, Flitter, Beldecos & Berger P.C. He serves on the adjunct faculty at Widener University School of Law, teaching consumer law and litigation. He is a contributing author to Pennsylvania Consumer Law and the National Consumer Law Center's publication Consumer Class Actions. Flitter also serves as a consultant to news media on consumer protection issues.
A Philadelphia native, Flitter is a graduate of Philadelphia University, the Delaware Law School of Widener University and the National Institute of Trial Advocacy.
The inaugural Ernico Award was presented last year to Pittsburgh attorney James W. Carroll Jr.
Founded in 1895, the Pennsylvania Bar Association exists to promote justice, professional excellence and respect of the law; improve public understanding of the legal system; facilitate access to legal services; and serve the 29,000 lawyers who are members of the association.