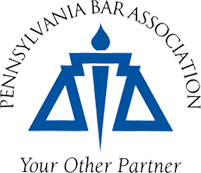 Pennsylvania Bar Association President Issues Statement on Guilty Plea by Luzerne County Lawyer Powell
HARRISBURG, PA (June 11, 2009) - Pennsylvania Bar Association President Clifford E. Haines today issued the following statement concerning the guilty plea entered by Luzerne County attorney Robert Powell for failing to report a felony to federal authorities and being an accessory after the fact to a tax conspiracy:
"The guilty plea of Robert Powell is hardly an unexpected turn of events given the reports of his involvement in the corruption investigation in Luzerne County. The apparent rogue behavior of a few in Luzerne County is disgraceful and demoralizing to the vast majority of lawyers and judges who act honorably and appropriately every day."
Founded in 1895, the Pennsylvania Bar Association exists to promote justice, professional excellence and respect of the law; improve public understanding of the legal system; facilitate access to legal services; and serve the 29,000 lawyers who are members of the association.