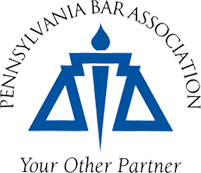 Supreme Court Chief Justice Cappy Receives Sir Francis Bacon Dispute Resolution Award
HARRISBURG (May 19, 2005) — The Pennsylvania Bar Association Alternative Dispute Resolution Committee recently named Pennsylvania Supreme Court Chief Justice Ralph Cappy the recipient of the annual Sir Francis Bacon Dispute Resolution Award. The award, which was presented during the association's annual meeting in Pittsburgh May 4-6, recognizes an individual who has made a significant impact in bringing mediation and other forms of dispute resolution to the commonwealth.
Sir Francis Bacon (1516-1626) was a Renaissance writer and served British monarchs in a legal capacity as knight, attorney general and solicitor. He authored the essay "Of Negotiating," which features the frequently-quoted line: "It is generally better to deal by speech than by letter, and by the mediation of a third than by a man's self."
The committee honored Chief Justice Cappy for his efforts to lead judges, lawyers and institutions toward early resolutions in medical malpractice claims. They also recognized him for his expressed commitment to exploring other avenues for the use of mediation.