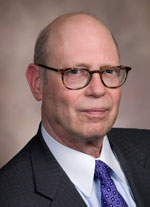 HARRISBURG (May 13, 2015) - Lawyer Donald J. Martin, a sole practitioner in Norristown, received the second annual Pennsylvania Bar Association Solo and Small Firm Practice Section Award during the PBA Annual Meeting Awards Luncheon on May 6 in Philadelphia.
The award honors an individual lawyer or law firm that has enhanced the professional reputations and abilities of solo and small firm attorneys in Pennsylvania.
Martin is serving a two-year term as chair of the PBA House of Delegates, the association's policy-making body. He has been a member of the PBA House of Delegates since 2001.
Martin is a member of the PBA Solo and Small Firm Practice Section and served as section chair from 2002 to 2004, during which time he instituted a series of continuing legal education programs that were presented to fellow lawyers at local bar association across the state.
He is chair of the PBA Bylaws Committee, immediate past chair of the PBA Senior Lawyers Committee and a member of the PBA GLBT Rights Committee. He has served on the PBA Nominating and Planning committees and the PBA Lawyer Advertising and Health Care Law task forces. He is a life fellow of the Pennsylvania Bar Foundation and is a frequent lecturer and course organizer for the Pennsylvania Bar Institute, the continuing legal education arm of the PBA.
Martin is active in the Montgomery Bar Association, serving as its president in 2012 and on its board of directors. He also chaired the MBA Lawyer Referral/Legal Access Committee and served on the editorial board of the Montgomery County Law Reporter. He was a director, officer and trustee of the Montgomery Bar Foundation. He also is a member of the Montgomery County Trial Lawyers Association and the American Bar Association.
Martin is a graduate of the University of Pennsylvania and the University of Chicago Law School. He has served the Montgomery County Court of Common Pleas as its law clerk for asbestos litigation since 1981, as law clerk to all Montgomery County senior judges since 1998 and has continued those duties and assumed others as appointed judicial officer for complex litigation beginning in 2002.
Founded in 1895, the Pennsylvania Bar Association strives to promote justice, professional excellence and respect for the law; improve public understanding of the legal system; facilitate access to legal services; and serve the 27,000 lawyers who are members of the association.