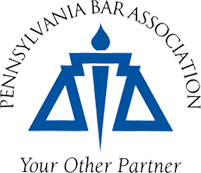 Pennsylvania Bar Association Posts Luzerne County Judicial Candidate Questionnaires
HARRISBURG, PA (May 5, 2009) - Background information about candidates for Luzerne County Court of Common Pleas is now available online. The Pennsylvania Bar Association has posted 11-page questionnaires completed by candidates on its judicial election Web site, http://www.pavotesmart.com.
"We thank the candidates for taking the time to complete the forms, which we hope will serve as valuable information tools for voters," said C. Dale McClain, president, Pennsylvania Bar Association. "The guilty pleas of former Judge Mark A. Ciavarella and former Judge Michael T. Conahan have greatly heightened the public's interest in Luzerne County's judicial system. Residents have directly expressed interest in receiving more information about the Luzerne County courts, including details about the candidates seeking to secure positions on the bench in the upcoming elections."
McClain said the Pennsylvania Bar Association took on the questionnaire project at the request of the Wilkes-Barre Law and Library Association. The local association believes it is unable to gather political information because its nonprofit status directs its activities to charitable purposes. The Pennsylvania Bar Association is able to gather such information because it is structured as a business organization.