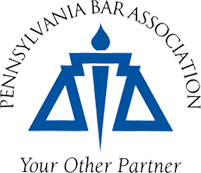 PITTSBURGH LAW FIRM TO BE HONORED FOR PROMOTION OF WOMEN
ó Houston Harbaugh PC to receive award from state bar association ó
HARRISBURG (April 20, 2005) ó The Pennsylvania Bar Association (PBA) Commission on Women in the Profession will present the Award for the Promotion of Women to Leadership Positions to the law firm of Houston Harbaugh PC during its twelfth annual conference May 5 at the Hilton Pittsburgh. The award will be presented at a noon luncheon, which will feature Helen P. Pudlin, senior vice president and general counsel for PNC Financial Services Group, Pittsburgh, as the keynote speaker.
This award was established in 2002 to recognize the law firm from among the 100 largest law firms in Pennsylvania that has done the most to promote its women lawyers to leadership positions within the firm. These leadership positions include managing partner, equity partner and department/section/practice group head.
Houston Harbaugh PC is a Pittsburgh-based firm with a national practice. The firmís three-person Executive Committee includes a woman; 23 percent of its equity partners are women; and 38 percent of its lawyer-administrators are women. Overall, 40 percent of the firmís lawyers and 60 percent of its associates are women. Working part time does not lengthen the period necessary for partnership.
For more information about the conference and luncheon or to view registration materials, visit the PBA Web site at www.pabar.org.