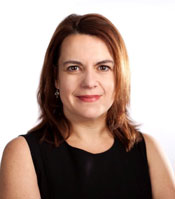 HARRISBURG (April 16, 2014) — Kelly Phillips Erb of The Erb Law Firm PC, Paoli, will receive the inaugural Pennsylvania Bar Association Solo and Small Firm Practice Section Award during the PBA Annual Meeting Awards Luncheon on May 15 at the Hershey Lodge, Hershey.
Erb writes extensively and speaks frequently about taxes. She created and is the author of the "Taxgirl" blog for Forbes.com, which has been recognized by the ABA Journal as one of the top 100 blogs written by lawyers. Since 2011, Erb also has written about business, tax and finance issues for Forbes.com.
In addition, Erb has written and has been interviewed about taxes for CNNMoney.com, Reuters, Time and AOL's WalletPop. She has been tapped for her ability to explain taxes in plain English by numerous media outlets, including National Public Radio's Marketplace, ABCNews.com, Esquire, CBS Radio, Marketwatch, Inc. and the Philadelphia Inquirer.
She authored the 2012 book, Ask the TaxGirl: Everything Parents Should Know About Filing Taxes (Including Child Care Expenses, Medical Costs, and the Earned Income Tax Credit), which addresses such issues as filing status, claiming dependents, determining exemptions and deducting expenses associated with raising children and which tackles a number of often confusing credits and deductions, including the earned income tax credit.
Erb shares her tax expertise on the PBA Solo and Small Firm Practice Section listserv that broadcasts information to participating section members' email addresses.
Erb serves on a number of boards and committees. She is the treasurer of the PBA Solo and Small Firm Practice Section Council and is a member of the PBA Tax Law Section and PBA Commission on Women in the Profession. She also holds memberships with the National Press Club, The Press Club Serving the Philadelphia Suburbs, The American Society of Journalists and Authors and The Union League of Philadelphia.
Erb received a "40 under 40" award, which recognizes young professionals in the Delaware Valley, from the Philadelphia Business Journal.
Erb is an honors graduate of Meredith College in Raleigh, N.C. She earned a juris doctor and a Master of Laws in Taxation from Temple University School of Law.
The PBA Solo and Small Firm Practice Section enhances the skills of lawyers in solo and small firm practice by providing forums, including an annual conference, quarterly newsletters and a listserv, for the exchange of ideas, methods and procedures that improve the quality of legal services.
Founded in 1895, the PBA strives to promote justice, professional excellence and respect for the law; improve public understanding of the legal system; facilitate access to legal services; and serve the 27,000 lawyers who are members of the association.