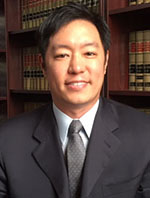 HARRISBURG (April 14, 2016) - The Pennsylvania Bar Association (PBA) Young Lawyers Division will present its Michael K. Smith Excellence in Service Award to Philip H. Yoon during the state association's Annual Meeting Awards Luncheon, May 12, in Hershey.
The award is named in memory of a young Philadelphia lawyer committed to providing legal services for low-income people and to offering law-related educational programs to students. The award is presented to a Pennsylvania young lawyer who, through his or her exemplary personal and professional conduct, reminds lawyers of their professional and community responsibilities.
Yoon, the chief staff attorney for the Superior Court of Pennsylvania, is active in the organized bar. He is the chair of the PBA Law-Related Education Committee, which oversees the association's youth education programs such as Celebrate the Constitution and Law Day. He volunteers for the Philadelphia Bar Association's Advancing Civics Education (ACE) program, which places lawyers and judges in Philadelphia public high schools to support social studies curriculum and to encourage students to engage in critical thinking about government, the law and dispute resolution.
Representing lawyers in Philadelphia, Yoon is a voting member of the PBA House of Delegates and the at-large zone chair for the PBA Young Lawyers Division. He is a member of the PBA Appellate Advocacy Committee and PBA Minority Bar Committee. He was a member of the 2011-12 class of the PBA Bar Leadership Institute, which develops future leaders of the association. He is currently a Pennsylvania Bar Foundation Young Lawyer Life Fellow. In addition, he served on the host committee for the American Bar Association Young Lawyers Division's 2014 national conference that took place in Pittsburgh.
Formerly of Hazleton, Yoon also volunteers for the alumni society of his alma maters, MMI Preparatory School, the University of Pennsylvania and the Washington and Lee University School of Law.
Founded in 1895, the Pennsylvania Bar Association strives to promote justice, professional excellence and respect for the law; improve public understanding of the legal system; facilitate access to legal services; and serve the 27,000 lawyers who are members of the association.