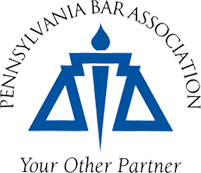 SCRANTON LAWYER ELECTED CHAIR OF THE PENNSYLVANIA BAR ASSOCIATION YOUNG LAWYERS DIVISION
HARRISBURG (April 13, 2005) — Jennifer J. Clark, assistant U.S. attorney in the U.S. Attorney's Office, Middle District of Pennsylvania in Scranton, will become chair of the Pennsylvania Bar Association (PBA) Young Lawyers Division (YLD) during the association's annual meeting May 4 - 6 in Pittsburgh. Clark will serve for a one-year term.
A member of the Lackawanna County, Pennsylvania, Federal and American Bar associations, Clark has served in variety of leadership positions within the PBA YLD, including chair-elect, secretary, and Zone 5 voting delegate to the PBA House of Delegates. She served as editor-in-chief of the PBA YLD's newsletter and is a scoring juror and presiding judge for the PBA YLD district and regional high school mock trial competition. She is co-chair of the PBA New Admittee Conference and is a member of the PBA Planning Committee.
Clark is the current secretary of the Federal Bar Association, Middle District of Pennsylvania chapter. She received the "Exemplary Service Award" in 2003 from the Lackawanna County Bar Association. She participated in the Lackawanna pro bono program and coordinated the Lackawanna Bar Association's "Christmas Operation Dear Santa" to benefit needy children.
Clark received a bachelor's degree from Bucknell University, a master's degree from the University of Minnesota, and a juris doctorate from the Villanova University School of Law.
Editor's Note: A photo of Jennifer J. Clark is available to download on the PBA Web site Here.