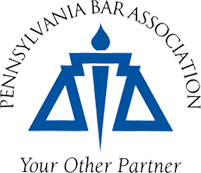 State Bar Association Honors Cumberland County Executive
HARRISBURG (March 13, 2008) - The Pennsylvania Bar Association Conference of County Bar Leaders (CCBL) has honored Cumberland County Bar Association Executive Director Becky H. Morgenthal with its 11th annual Arthur J. Birdsall Award during its recent 42nd Annual Seminar of the Conference of County Bar Leaders in State College, Pa.
The award is presented to a county bar executive who demonstrates professional excellence, who is committed to the success of his or her bar association and who significantly enhances the stature of his or her bar association. The award is named in honor of Arthur J. Birdsall, the Pennsylvania Bar Association's county bar services director who retired after nearly 40 years of support to local bar associations.
Fellow bar executives nominated Morgenthal for the award because of her inspiring dedication to the legal profession, her professional demeanor and her efforts to increase involvement in the activities of the organized bar. Morgenthal recently completed a two-year term as president of the Pennsylvania Association of Bar Executives and is credited with providing extraordinary support and guidance while serving as a member of the CCBL Executive Committee during that time period.
Founded in 1895, the Pennsylvania Bar Association strives to promote justice, professional excellence and respect for the law; improve public understanding of the legal system; facilitate access to legal services; and serve the 29,000 lawyers who are members of the association.