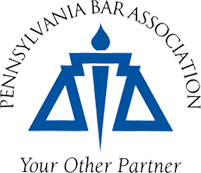 CONNELLSVILLE LAWYER RE-ELECTED SECRETARY OF THE PENNSYLVANIA BAR ASSOCIATION
HARRISBURG (May 6, 2002) - Gretchen A. Mundorff, a partner in the Connellsville law firm of Watson Mundorff Brooks & Sepic, was re-elected secretary of the Pennsylvania Bar Association during the organizationís annual meeting held May 1-3 in Hershey. Mundorff will serve for a one-year term.
A member of the PBA House of Delegates, Mundorff is a former PBA Zone 6 governor and chair of the PBA Young Lawyers Division and Bar Leadership Institute. She is a fellow of the American and Pennsylvania Bar foundations and is a member of the Pennsylvania Supreme Court Disciplinary Board Hearing Committee. Mundorff also serves on the board of directors of the Pennsylvania Bar Institute, the educational arm of the PBA, and as solicitor for the Fayette County Zoning Hearing Board, Connellsville Township and Dunbar Borough/Township Sanitary Authority.
Mundorff is active in her community, serving on the boards of directors of the Connellsville Chamber of Commerce, Rotary Club and United Way. She was recognized by the American Red Cross with the Coldren Award for volunteer service and received the Athena Award from the Chamber of Commerce. She also was named a Paul Harris fellow by the Rotary. Mundorff currently serves as president of the United Methodist Women of the Albright United Methodist Church in South Connellsville and is the youth Sunday School teacher.
She is a graduate of Chatham College and the Marshall Wythe School of Law, College of William and Mary.