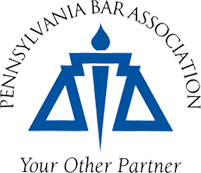 MONTGOMERY COUNTY LAWYER NAMED TREASURER OF THE PENNSYLVANIA BAR ASSOCIATION
HARRISBURG (May 6, 2002) - C. Dale McClain of Lansdale, a sole practitioner in the Worcester law firm of C. Dale McClain Ltd., was named treasurer of the Pennsylvania Bar Association at the close of the organizationís annual meeting May 3 in Hershey.
A member and parliamentarian of the PBA House of Delegates, McClain is a former president of the PBA Conference of County Bar Leaders and a former chair of the PBA Young Lawyers Section. He was a founder and first chair of the PBA General Practice (now Solo and Small Firm) Section. He has received two special achievement awards from the PBA for his service to the association.
McClain served as president of the Montgomery Bar Association in 1990 and as president of the Montgomery Bar Foundation in 1991.
He is active in his community and has served as vice president of the board of commissioners of Lower Merion Township, chairman of the Delaware Valley Regional Finance Authority, and president of the Lower Merion Federation of Civic Associations. McClain also served as president of the Laymenís Retreat League.
He is a graduate of Villanova University and the Villanova University School of Law and served as president of the Villanova Law School Alumni Association. McClain also holds a LLM degree in taxation from the Temple University School of Law.