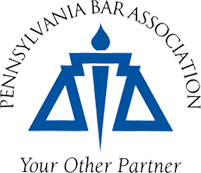 BERKS COUNTY LAWYER NAMED PRESIDENT- ELECT OF THE PENNSYLVANIA BAR ASSOCIATION
HARRISBURG (May 6, 2002) - Thomas M. Golden, managing partner of the Wyomissing law firm of Golden Masano Bradley, was named President-elect of the Pennsylvania Bar Association at the close of the organizationís annual meeting held May 1-3 in Hershey. Golden will become president of the 28,000-member professional association in May 2003.
A member of the PBA House of Delegates, Golden is a former PBA Zone 2 governor. He is a director of the Pennsylvania Bar Institute and Lawyers Concerned for Lawyers Inc. of Pennsylvania and is vice chair of the PBA Editorial Committee. He has served as chair of the PBA/PBI Pension Committee and chair of the PBA Client and Community Relations Committee, for which he received a PBA Special Achievement Award in 2000. Golden served on the PBA Task Force for the Quality of Life/Balance and Task Force on PBA Entities and Operations. He is a fellow of the Pennsylvania Bar Foundation.
Golden served as president of the Berks County Bar Association in 1992 and was a BCBA director from 1990-1993. A former president of the BCBA Young Lawyers Section, Golden received a BCBA Presidentís Award in 2001.
Golden is active in his community and serves on the advisory boards of National Penn Bank and the Jesuit Center for Spiritual Growth. He is a past president of the Berks County Golf Association and served for many years as a member of the board of directors of the Caron Foundation. He is a graduate of The Pennsylvania State University and the Dickinson School of Law.