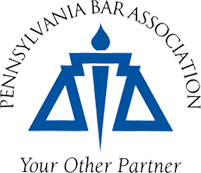 DAUPHIN COUNTY LAWYER ELECTED CHAIR OF THE PENNSYLVANIA BAR ASSOCIATION YOUNG LAWYERS DIVISION
HARRISBURG (May 6, 2002) - Charles Eppolito III, a lawyer with the law firm of McQuaide, Blasko, Schwartz, Fleming & Faulkner Inc., was elected chair of the Pennsylvania Bar Association (PBA) Young Lawyers Division during the associationís annual meeting May 1 - 3 in Hershey. Eppolito will serve for a one-year term.
An active member of the PBA, Eppolito currently serves on the associationís Board of Governors and House of Delegates. He is a past member of the Conference of County Bar Leaders Executive Committee and Young Lawyers Division Bylaws Committee. Eppolito served as co-chair of the Young Lawyers Division Childrenís Issues and Awards committees and as vice chair of the Statewide Mock Trial Competition. He also is a past chair of the Pennsylvania Defense Institute Young Membersí Committee. Eppolito is a member of the Dauphin County and American Bar associations.
Eppolito is active in his community, serving as a volunteer with the Harrisburg Boys and Girls Club. He is a past president of the State College Area Jaycees and member of the Palmyra Jaycees.
Eppolito is a graduate of Villanova University and Villanova University School of Law.