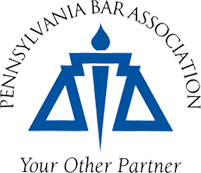 Local Bar Associations Receive Awards
HARRISBURG (Feb. 27, 2009) - The Pennsylvania Bar Association (PBA) presented County Bar Recognition Awards during the 42nd Annual Seminar of the Conference of County Bar Leaders, Feb. 27 in State College, Pa. Twenty-seven local bar associations in Pennsylvania were honored this year for sponsoring projects that work to improve the legal profession, justice system and community. The awards, which are non-competitive in nature, are sponsored annually by the PBA.
"Pennsylvania lawyers deserve praise for investing their time and talents in projects and programs that improve communities and better the legal profession and our justice system," said Pennsylvania Bar Association President C. Dale McClain. "It is our hope that the County Bar Recognition Awards will prompt even more legal professionals to take part in activities that make a difference in the lives of Pennsylvania residents."
The following local bar associations received awards for notable projects and programs:

Allegheny County Bar Association: Televised "Legal Briefs" Segments
Beaver County Bar Association: 2008 Holiday Project and Salvation Army's Red Kettle Campaign
Berks County Bar Association: Judicial Dinner and Holiday Benefit Luncheon
Bucks County Bar Association: Pennsylvania Commonwealth Court Session
Butler County Bar Association: Locally-developed Continuing Legal Education
Centre County Bar Association: Young Lawyers Division Community Projects and 2008 Bench-Bar Day
Chester County Bar Association: Charles E. Swope Scholarship and Habitat for Humanity Day
Clearfield County Bar Association: Project: Legal Eagles 8 ("The Ocho")
Cumberland County Bar Association: "You & The Law"
Dauphin County Bar Association: Lawyers Fund for Client Security Pilot Program
Delaware County Bar Association: Criminal Trial Practices Committee/Subcommittee on Indigent Defense Program, Young Lawyers' Section Annual Christmas Party for Underprivileged Children and Alternative Dispute Resolution Committee - Voluntary Settlement Program
Erie County Bar Association: Kid Konnection
Franklin County Bar Association: Pro Bono Recognition Luncheon, Law Day and Support Staff Luncheon
Lackawanna Bar Association: Hoban Lecture Series
Lancaster Bar Association: Members' Lounge and Young Lawyer Section CLE/Happy Hours
Lawrence County Bar Association: Limited Appearance Custody Conciliation Program
Lebanon County Bar Association: Toys for Tots Pledge Drive and Adopt-a-Family
Lycoming Law Association: Lawctoberfest, Law Day 2008 and Development of Fee Dispute Rules of Procedure and Guidelines
Monroe County Bar Association: Mentoring Call List, Young Lawyers Division's Food Drive and Bench Bar Conference
Montgomery Bar Association: Young Lawyers Division's Participation in the Extreme Home Makeover, "Why Vote?" YouTube Video Contest and Diversity Meet and Greet Networking Event
Northampton County Bar Association: 2008 Bench Bar Conference, Young Lawyers Division's Mock Trial Scholarship and Introduction of the Practice of Law Seminar
Pike County Bar Association: Christmas Party for Children with Disabilities, Community Outreach Program, Safe Haven Pro Bono Project
Schuylkill County Bar Association: Sponsorship of "Electing a President" Series, Custody Clinics and Formation of Public Relations/Community Development Committee
Washington County Bar Association: "The American Justice System: A Day in the Life of …" Radio Show
Westmoreland Bar Association: Community Education, "First Night" Event and Bench Bar Conference
Wilkes-Barre Law and Library Association: 50th Anniversary of Law Day, Inclusive Membership Program and Erie R. Co. v Tompkins 70th Anniversary Multi-Bar Celebration
York County Bar Association: Annual Report to the Community
Founded in 1895, the Pennsylvania Bar Association strives to promote justice, professional excellence and respect for the law; improve public understanding of the legal system; facilitate access to legal services; and serve the 29,000 lawyers who are members of the association.