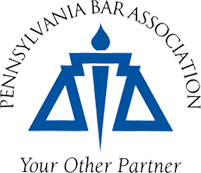 WOMEN LEADERS OF LEGAL PROFESSION TO GATHER IN PHILADELPHIA
HARRISBURG (Feb. 24, 2005) — The Pennsylvania Bar Association Commission on Women in the Profession (WIP) will host a midyear conference titled, "Lessons Learned Along the Pathways to Success: Pearls of Wisdom from Leaders of our Profession," on Friday, March 4, from 3:00 p.m. to 6:00 p.m., Wanamaker Building, Philadelphia.
Based upon the recent book Women-at-Law: Lessons Learned Along the Pathways to Success written by Philadelphia lawyer Phyllis Horn Epstein, the conference will bring together many respected leaders of Pennsylvania's legal community to share their perspectives and lessons for leadership and success.
The conference is free to bar association members and is co-sponsored by the Pennsylvania and Philadelphia Bar associations and the First Judicial District. Copies of Women-at-Law will be available for purchase at the conference, and the author will be available to autograph copies of her book following the session.
Speakers for the conference include: Pennsylvania Supreme Court Justice Sandra Schultz Newman; Third Circuit U.S. Court of Appeals Judge Dolores K. Sloviter; ABA Margaret Brent Award Winner and Eastern District Court Judge Norma Shapiro; U.S. District Court Judge Gene E. K. Pratter; Pennsylvania Superior Court Judge Phyllis Beck; Pennsylvania Superior Court Judge Susan Gantman; Commonwealth Court Judges Doris Smith-Ribner and Rochelle Friedman; Philadelphia Common Pleas Court Judge Frederica Massiah-Jackson; Philadelphia Bar Association Past Chancellor Audrey Talley; Professor of Law and 2004 Margaret Brent Award Winner Marina Angel; State Rep. Kathy Manderino; author and Epstein, Shapiro & Epstein partner Phyllis Horn Epstein; Pa. Bar Association WIP Co-chair & Philadelphia Bar Association Assistant Secretary Kathleen Wilkinson; Philadelphia Bar Association Women in the Profession Committee Co-Chair Nicole Galli; and Weber Gallagher partner Susan I. Schulman.
For more information, visit the Pennsylvania Bar Association Web site at www.pabar.org.