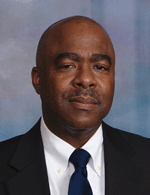 HARRISBURG (Jan. 6, 2014) - The Pennsylvania Bar Association has named Trent Hargrove of Harrisburg as its diversity officer.
Hargrove, who has an extensive background in diversity development, will be responsible for overseeing and facilitating the PBA's efforts to improve diversity within the association and Pennsylvania's legal profession. Hargrove will work with the PBA Diversity Team, Board of Governors and senior staff to develop and execute the PBA's diversity programs and will work with the state's legal community to provide resources and tools in support of diversity goals, objectives and initiatives.
"Trent brings an impressive portfolio of experience to the PBA," said Forest N. Myers, PBA president. "His broad-based work with the state government workforce coupled with his service to the PBA Minority Bar Committee will be valuable assets to the PBA's efforts to increase diversity participation in the organized bar."
"Trent's experience, professionalism and leadership will be critical to ensure that the PBA is a bar association for everyone," said Barry Simpson, PBA executive director. "We are fortunate to have someone with Trent's depth of knowledge to lead and support the growth our diversity efforts."
Hargrove was the chief diversity officer for the Commonwealth of Pennsylvania from 2007 to February 2012. In that capacity, he managed a major new initiative to evaluate the commonwealth's diversity programs and implement best practices. He worked with the Office of Administration to develop programs to recruit, hire and retain a diverse workforce, increase participation by minorities in commonwealth contracts and coordinate diversity and inclusiveness in all aspects of commonwealth work.
From 2003 to 2007, Hargrove was chief counsel, Governor's Office of General Counsel, Department of General Services. From 1992 to 2003, he was chief deputy attorney general, Civil Rights Enforcement Section, Public Protection Division, Office of Attorney General. He served in other commonwealth positions from 1981 to 1986 and from 1990 to 1992. Hargrove was an associate at Harrisburg's McNees, Wallace and Nurick from 1986 to 1990.
Hargrove is a member of the PBA Minority Bar Committee and the PBA Government Lawyers Committee. He previously served on the PBA Civil Rights and Responsibilities Committee and the PBA Legal Services to Persons with Disabilities Committee.
From 2000 to 2004, Hargrove served as chair of the Board of Control for the Harrisburg School District. He served as chairman and chief executive office of the Harrisburg Authority from 1991 to 2004. He was chief counsel to and director of the Harrisburg Senators Baseball Club from 1995 to 2004.
Hargrove earned a bachelor's degree in political science and psychology from Bucknell University and a juris doctorate from Dickinson School of Law.
Founded in 1895, the Pennsylvania Bar Association strives to promote justice, professional excellence and respect for the law; improve public understanding of the legal system; facilitate access to legal services; and serve the 28,000 lawyers who are members of the association.