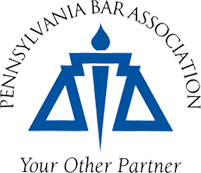 Philadelphia Lawyer Elected Vice President of the Pennsylvania Bar Association
HARRISBURG (May 2000) -- Timothy J. Carson, a partner in the Philadelphia law firm of Saul, Ewing, Remick & Saul LLP, was elected vice president of the Pennsylvania Bar Association during the organizationís Annual Meeting held this month in Hershey. He will become president of the association in the year 2002.
A member of the PBA House of Delegates, Carson is a past PBA Zone 1 governor and PBA Young Lawyers Division chair. He is a life fellow of the Philadelphia and Pennsylvania bar foundations and is a past president of the Philadelphia Bar Foundation. Carson also is a past member of the Philadelphia Bar Association Board of Governors and is a founding member of the Pennsylvania Association of Bond Lawyers. In addition, he is a fellow of the American College of Bond Counsel.
Appointed by Gov. Tom Ridge in 1996, Carson serves as a commissioner for the Delaware Valley Regional Planning Commission. In addition, Carson is a past legal counsel and executive committee member of the Southeastern Pennsylvania Chapter of the March of Dimes Birth Defects Foundation.
He is a graduate of the Wharton School of Finance and Commerce of the University of Pennsylvania and the Villanova University School of Law.