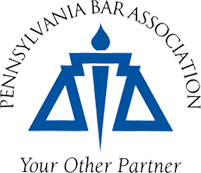 STATE BAR ASSOCIATION SUPPORTS OPEN RECORDS LEGISLATION
HARRISBURG (March 6, 2000) -- The Pennsylvania Bar Association today reiterated its support of open records legislation in conjunction with Pennsylvania State Senator Stewart J. Greenleafís press conference announcing the introduction of the Access to Public Records Act, which focuses on the publicís right to access information regarding the conduct and activities of government agencies.
In 1997, the Pennsylvania Bar Association Bar/Press Committee recommended a resolution in support of any open records legislation, present and future, which recognizes citizensí rights to participate in the democratic process and provides for appropriate programs to give citizens reasonable access to government meetings and public records in communities across the commonwealth. This resolution was passed by the Pennsylvania Bar Association House of Delegates.
Specifically, the Pennsylvania Bar Association supports any open records legislation that contains the following principles:

access to public records must be unconditional without regard to the purpose of the request;
public records are the publicís, not the governmentís;
all information is public unless specifically exempted, including any manner in which the record is stored;
cost of reproducing records must be limited to the direct cost of duplication;
the burden of proof for whether a record is open or closed must lie with the government;
when part of the requested information is considered confidential, simple redaction should be used to fix the problem;
if there is a question as to whether a specific record is public, the government must respond promptly; and
denial of a request must include reasons and statutory citations.