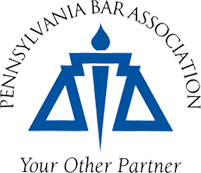 Waynesburg Lawyer Re-Elected Secretary of the Pennsylvania Bar Association
HARRISBURG (May 2000) -- J. Marie Webb, a Waynesburg solo practitioner, was re-elected for a third one-year term as secretary of the Pennsylvania Bar Association during the organization's Annual Meeting held this month in Hershey.
Webb has held numerous leadership positions in the PBA, including previous service as a member of the Board of Governors and House of Delegates and as a fellow of the Pennsylvania Bar Foundation, the PBA's charitable arm. She also is a member of the PBA Conference of County Bar Leaders Executive Committee, having served as its president, and is an executive committee member of the PBA Solo and Small Firm Practice Section. She is a longtime member of the Allegheny and Greene county bar associations. Webb is the current editor of the Greene County Bar Association Legal Journal and Newsletter.
Previously active with emergency fire services in Greene County, Webb was Pennsylvania's first woman to be certified as a fire service instructor. A past lieutenant and treasurer for the Morris Township Volunteer Fire Company, Webb also is a past assistant director of the Greene County Emergency Management Agency where she co-authored Greene County's original disaster plan.
Webb is a former valedictorian of Waynesburg College, where she has been active in the annual spring GNP concert for the last 23 of its 30 years, and is a graduate of the University of Pittsburgh School of Law.