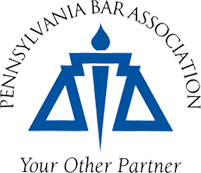 State College Lawyer Re-Elected Treasurer of the Pennsylvania Bar Association
HARRISBURG (May 2000) -- Dennis O. Reiter, a shareholder in the State College law firm of Lee, Martin, Green and Reiter, Inc., was re-elected treasurer of the Pennsylvania Bar Association during the organizationís Annual Meeting held this month in Hershey. Reiter will serve for a one-year term.
Reiter has held numerous leadership positions in the PBA, including service as a member of the Board of Governors and House of Delegates and as a fellow of the Pennsylvania Bar Foundation. He also is a member of the Centre County Bar Association, the American Judicature Society and the Pennsylvania Land Title Association.
The presiding justice of the Bellefonte B.P.O.E. Lodge, Reiter also is an active member of the American Legion, the Bellefonte Lions Club and the Centre County and Bellefonte chambers of commerce.
Reiter is a graduate of the University of Houston and the University of Pittsburgh School of Law.