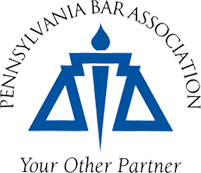 Pennsylvania Bar Association Presents 21st Annual Print Media Awards
HARRISBURG (September 22, 2000) -- Pennsylvania Bar Association President Marvin S. Lieber today announced the winners of the 2000 William A. Schnader Print Media Awards, which honor journalistic excellence in news or feature reporting of the legal system and its operations.
Funded by the national law firm of Schnader Harrison Segal & Lewis LLP, the awards competition was founded in memory of former state attorney general and PBA president William A. Schnader. The awards recognize excellence in print journalism, particularly articles which foster greater public understanding of the legal system and the roles of society and the law, the courts, law enforcement agencies and the legal profession.
The winners are as follows:

Daily Newspapers: 49,000+ Circulation
1st Place - The Morning Call - Elliot Grossman; "Ghost Court: Justice is Hard to Find"

2nd Place - Pittsburgh Post-Gazette - Steve Twedt & Jane Elizabeth Zemel; "Dirty Secrets"
Daily Newspapers: Under 49,000 Circulation
1st Place - York Daily Record - Caryl Clarke; "Completing the Sentence"

2nd Place - The Legal Intelligencer - Danielle Rodier; "Social Security Benefits Don't Bar PHRA Claims"
Weekly Newspapers
1st Place - The Legal Intelligencer Suburban - William C. Smith; "Defending the Faith: Lawyers & Religion" 2nd Place - The Legal Intelligencer Suburban - Donna Dudick; "Taking Up the Cause for Women Prisoners"