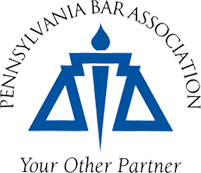 Greensburg Lawyer Elected President-Elect of the Pennsylvania Bar Association
HARRISBURG (May 2000) -- H. Reginald Belden Jr., a partner in the Greensburg law firm of Belden Belden Persin and Johnston, was elected president-elect of the Pennsylvania Bar Association during the organizationís Annual Meeting held this month in Hershey. He will become president of the association in the year 2001.
A former chair of the PBA House of Delegates and president of the Westmoreland Bar Association and University of Pittsburgh School of Law Alumni Association, Belden is a member of the American College and Westmoreland Academy of Trial Lawyers, a trustee of the Supreme Court of Pennsylvania Historical Society and a life fellow of the American and Pennsylvania bar foundations.
Belden is an active member of the Greensburg community and served as president of the Westmoreland Symphony and Westmoreland Society. He also was the vice chair of the Westmoreland Trust and the vice president of the Greensburg Area Cultural Council.
Belden is a graduate of Lafayette College and the University of Pittsburgh School of Law.