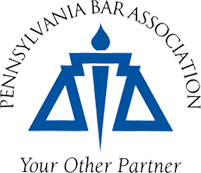 Anita Hill & Lt. Governor Mark Schweiker Featured Speakers at Pennsylvania Bar Associationís Annual Meeting in Hershey
HARRISBURG (May 13, 2000) -- Anita Hill and Lieutenant Governor Mark Schweiker were the featured speakers at the Pennsylvania Bar Associationís Annual Meeting May 10 - 12 at the Hershey Lodge and Convention Center, Hershey. In addition, the PBA Annual Meeting offered more than 50 meetings and educational programs in various areas of the law for the more 400 conference attendees.
Annual Meeting Schedule:
Wednesday, May 10

The PBAís Commission on Women in the Profession held its 7th annual conference titled ďTackling Workplace Issues: Balance, Empowerment, DiversityĒ for women lawyers from throughout the state. The conference luncheon featured ANITA HILL as the keynote speaker and the presentation of the Anne X. Alpern Award to Philadelphia Court of Common Pleas Judge Carolyn Engel Temin.

Thursday, May 11

The PBA 2000 Young Lawyers Division Awards Luncheon featured LT. GOVERNOR MARK SCHWEIKER as the keynote speaker. In addition, PBA President Louis N. Teti presented the Presidentís Award to Pennsylvania Education Secretary Eugene Hickok for his commitment to civics and government education. The Pennsylvania Bar Foundation also presented its annual Goffman Awards for excellence in pro bono activities to The Dickinson School of Law, Legal Services, Inc., the Cumberland County Bar Association and Pittsburgh lawyer Frank J. Raymond. The Lifetime Achievement Award was presented to Philadelphia lawyer Carl Oxholm.
The Honorable Madame Justice Louise Arbour of the Supreme Court of Canada received the Pennsylvania Bar Foundationís Second Annual Service to Humanity Award Thursday evening during the PBA Annual Dinner.