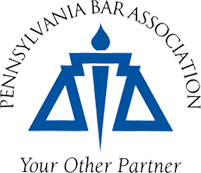 Pennsylvania Bar Association Presents Clarity Awards
HARRISBURG (June 2000) -- The Pennsylvania Bar Association Plain English Committee presented its 2000 Clarity Awards to Leslie Anne Miller of Bryn Mawr and Shannon Duffy of Philadelphia during ceremonies held last month at the PBA Annual Meeting in Hershey.
The PBA created the Plain English Committee in 1998 in an effort to improve the general public's access to the law by removing the barriers of "legalese." The Clarity Awards were devised to honor individuals who work to clarify the legal language.
Leslie Anne Miller, the first female president of the Pennsylvania Bar Association, was presented with a Clarity Award for creating the Plain English Committee during her PBA presidency.
Shannon Duffy, a former U.S. Courthouse correspondent to the Legal Intelligencer in Philadelphia, was honored for his ability to translate simple and complex legal concepts into plain english.