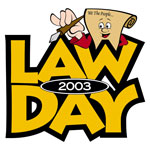 In partnership with county bar associations, the PBA held its fourth annual statewide Law Day effort titled "One Nation Indivisible." Beginning May 1 with kick-off events throughout the state and continuing through May 30, the Law Day celebration brought together over 1,000 judges, lawyers and schools to help children learn about the law and our country's strength and history.
The official statewide kick-off ceremony was held on May 1 at the State Capitol in Harrisburg and featured Pennsylvania Supreme Court Justice Thomas Saylor, PBA President Thomas Golden, PBA Law-Related Education Committee Co-chair Louis Teti and the Harrisburg High School Choir. The speakers talked with students from Shimmel Elementary School in Harrisburg about their experiences with the law and our country's independence. In addition, the winner of the association's statewide poster contest, a third grade student from Overlook Elementary School in Montgomery County, Pa., was announced.
"The events of September 11, 2001, left a lasting impact on all Americans, including our children," President Golden said. "As we continue to work together to heal as a nation, we now have the opportunity and responsibility to teach children about our country's strength and history. Words like freedom, democracy and equality can become commonplace in the classroom as we work with schools and parents to foster the spirit of America in our children."
To achieve these goals, the PBA developed the Law Day 2003 K-12 Lesson Plan Guide to help educators, judges and lawyers bring the law to life for students. The guide includes law-related lesson plans for all grade levels, ready-to-copy handouts and useful informational resources for educators. In addition, the guide helps educators prepare for the Proposed State Academic Standards for Civics and Government by correlating each lesson plan to the appropriate academic standards it satisfies.
Throughout the month of May, lawyers and judges visited classrooms across the commonwealth to talk with students about the law. Many local and county bar associations hosted Law Day festivities, including courthouse tours and mock trials for students, Law Day luncheons and judicial visits.
Law Day is funded in Pennsylvania by the Pennsylvania Bar Foundation.
SPECIAL THANKS
The PBA would like to thank the following individuals and organizations for helping to make Law Day 2003 possible:
Bradford County Bar Association
Cameron County Bar Association
Centre County Bar Association
*Judge John F. Cherry
Clearfield County Bar Association
Columbia-Montour County Bar Association
Crawford County Bar Association
Dauphin County Bar Association
Elk County Bar Association
*Charles Eppolito III, Esq., PBA Young Lawyers Division Chair
*Michelle Farley, Esq.
Franklin County Bar Association
Harrisburg High School Choir
*Donald Imler, Hollidaysburg Area Senior School
*Susan Kenny, Monroe County Bar Association
*Judge Thomas King Kistler
*Barbara Kittrell, Berks County Bar Association
Lawrence County Bar Association
LEAP-Kids, Inc.
*Jon Malsnee, Esq.
*Jacqueline Martinez, Esq.
Mercer County Bar Association
*Kathleen Miller, principal, Schaull Elementary School
*Hon. Linda Wallach Miller, Law-Related Education Committee Co-chair
*Rosa Copeland Miller, Law-Related Education Committee Vice-chair
Monroe County Bar Association
*Susan Morgan, Pennsylvania Newspaper Association
*Craig B. Neely, Esq.
Pennsylvania Cable Network
Pennsylvania Newspaper Association
Philadelphia Bar Association
Pennsylvania Supreme Court Justice Thomas Saylor
*Grace Schuyler, Esq.
Schuylkill County Bar Association
Shimmel Elementary School
*Sandra Brydon Smith, Erie County Bar Association
Somerset County Bar Association
*Andrew F. Susko, Esq.
*Louis N. Teti, Esq., Law-Related Education Committee Co-chair
Union County Bar Association
Washington County Bar Association
Westmoreland Bar Association
Wilkes-Barre Law & Library Association
* Member of the PBA Law-Related Education Committee