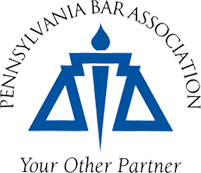 State & Local Bar Associations Sponsor Statewide Law Day Celebration

In partnership with county bar associations, the Pennsylvania Bar Association launched the second annual statewide coordinated Law Day effort titled "Celebrate Your Freedom: Rights + Responsibilities = Freedom." Beginning April 30 with kick-off events throughout the state and continuing through May 30, the 2001 Law Day celebration brought together over 1,000 judges, lawyers and schools to help children learn how their rights and responsibilities truly "equal" our country's freedom.
The official statewide kick-off ceremony was held at the State Capitol and featured the following speakers: PBA President-elect Reginald Belden; Senate President Pro Tempore Robert Jubelirer; Speaker of the House Matthew Ryan; Pennsylvania Superior Court Judge Correale Stevens; and Law Day Committee co-chairs Monroe County Judge Linda Wallach Miller and PBA Immediate Past President Louis N. Teti. Over 50 students from the Hollidaysburg Area Senior High School, Blair County, also were part of the festivities.
To achieve these goals, the PBA and the Temple - Law, Education & Participation Program (LEAP) of the Temple University Beasley School of Law, developed the Law Day 2001 K-12 Lesson Plan & Idea Guide to help educators, judges and lawyers bring the law to life for students. The guide includes law-related lesson plans for all grade levels, ready-to-copy handouts and useful informational resources for educators. In addition, the guide helps educators begin to prepare for the Proposed State Academic Standards for Civics and Government by correlating each lesson plan to the appropriate academic standards it satisfies.
The local bar associations that partnered in the statewide celebration were:

Berks County Bar Association
Blair County Bar Association
Bradford County Bar Association
Centre County Bar Association
Clearfield County Bar Association
Crawford County Bar Association
Dauphin County Bar Association
Delaware County Bar Association
Erie County Bar Association
Franklin County Bar Association
Greene County Bar Association
Lawrence County Bar Association
Luzerne County Bar Association
Mercer County Bar Association
Monroe County Bar Association
Montgomery Bar Association
Northampton County Bar Association
Schuylkill County Bar Association
Somerset County Bar Association
Washington County Bar Association
Westmoreland Bar Association
York County Bar Association