Gov. Ridge Proclaims May 1, 2000 "Lawyers & Judges in the Classroom Day" (Click here to see Law Day 2000 participant list)
In partnership with county bar associations, the Pennsylvania Bar Association launched the commonwealth's first statewide coordinated Law Day effort titled "Celebrate Students: Judges & Lawyers Go Back to School." Beginning May 1 with kick-off events throughout the state and continuing through May 5, the Law Day 2000 celebration included close to 1,000 judges and lawyers, who visited hundreds of Pennsylvania K-12 public, private and parochial schools.
"As judges and lawyers, we have a unique obligation to help educate children about their legal rights and responsibilities in the new millennium," PBA President Marvin S. Lieber said. "By teaching about the law in an interesting and informative manner through our Law Day program, we are helping teachers and students recognize the need to continue law-related educational efforts."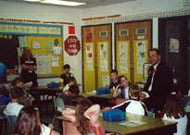 To achieve these goals, the PBA and the Temple - Law, Education & Participation Program (LEAP) of the Temple University Beasley School of Law, developed the Lesson Plan & Idea Guide for K-12 Classrooms to help educators, judges and lawyers bring the law to life for students. The guide includes law-related lesson plans for all grade levels, ready-to-copy handouts and useful informational resources for educators. In addition, the guide helps educators begin to prepare for the Proposed State Academic Standards for Civics and Government by correlating each lesson plan to the appropriate academic standards it satisfies.
Monroe County Judge Linda Wallach Miller, chair of the PBA Law Day Committee, said, "It is appropriate for judges and lawyers, who work in the justice system everyday, to share their knowledge of and experience with the law with students."
The local bar associations that partnered in the statewide celebration were:

Allegheny County Bar Association
Berks County Bar Association
Butler County Bar Association
Carbon County Bar Association
Chester County Bar Association
Clearfield County Bar Association
Cumberland County Bar Association
Dauphin County Bar Association
Delaware County Bar Association
Elk County Bar Association
Erie County Bar Association
Greene County Bar Association
Huntingdon County Bar Association
Lawrence County Bar Association
Lebanon County Bar Association
Bar Association of Lehigh County
Lycoming Law Association
Monroe County Bar Association
Montgomery Bar Association
Schuylkill County Bar Association
Somerset County Bar Association
Washington County Bar Association
Westmoreland Bar Association
York County Bar Association
Click here to learn more about the local county activities.
SPECIAL THANKS
The Pennsylvania Bar Association would like to thank the following individuals and organizations for helping to make Law Day 2000 possible:
Hon. Linda Wallach Miller, Law Day 2000 Committee Chair
Sally L. Apter, Greene County Bar Association
*Hon. Cynthia Baldwin
Thomas Campion Jr., Esq., Schuylkill County Bar Association
Marianne Canning, Bar Association of Lehigh County
Daniel Casciato, Allegheny County Bar Association
Thomas Coppolo, Esq., Elk County Bar Association
*Hon. Rhonda Lee Daniele
Stacey Dobash, Montgomery Bar Association
Jeffrey S. DuBois, Esq., Clearfield County Bar Association
*Hon. Myrna Field
Hon. James Knoll Gardner, Council on Judicial Independence Education Division Chair
*Peggy Halfpenny, Chester County Bar Association
Norman Haase, Esq., Delaware County Bar Association
Amy Holcombe, Chester County Bar Association
*Katherine Humm, York County Bar Association
Mary Kollas Kennedy, Esq., Cumberland County Bar Association
Susan Kenny, Monroe County Bar Association
*Barbara Kittrell, Berks County Bar Association
Hon. Samuel A. Kline, Lebanon County Bar Association
Diane Krivoniak, Westmoreland Bar Association
Marion Laffey-Ferry, Butler County Bar Association
*Kathryn Meloni, Esq.
*Paul W. Minnich, Esq.
Donald Morgan, Dauphin County Bar Association
*Craig B. Neely, Esq.
Joseph F. Orso III, Lycoming Law Association
JoEllen Pastore, Lawrence County Bar Association
*Hon. Debra Pezze
Kathy L. Sabol, Washington County Bar Association
Steven Serfass, Esq., Carbon County Bar Association
*Sandra Brydon Smith, Erie County Bar Association
*Andrew F. Susko, Esq.
*David Keller Trevaskis, Esq.
Sandra Upor, Esq.
George Zanic, Esq., Huntingdon County Bar Association

Pennsylvania Department of Education
Pennsylvania Newspaper Association
Temple-LEAP of the Temple University Beasley School of Law
* Member of Law Day 2000 Committee