State Senate Committee Holds Public Hearings on Civil Legal Representation of the Indigent in 2013

During 2013 the Pennsylvania Senate Judiciary Committee held three public hearings posing the question "Civil Legal Representation of the Indigent: Have We Achieved Equal Access to Justice?" PBA President Forest N. Myers testified at the third and final hearing on civil legal representation of the indigent on Oct. 29 in Pittsburgh. Read the hearing agenda and Myers' testimony. Read the full transcript of the hearing, as provided on a pro bono basis by Donna Betza & Associates Court Reporting.
Earlier hearings were held on May 7 in Harrisburg and May 23 in Philadelphia. Senate Judiciary Committee Chairman Stewart J. Greenleaf (R-Montgomery, Bucks) chaired the hearings. Access more information on the three hearings on the Pennsylvania Legal Aid Network (PLAN) website at www.palegalaid.net/resources/clients/pa-senate-judiciary-committee-public-hearings-civil-legal-representation-indigent.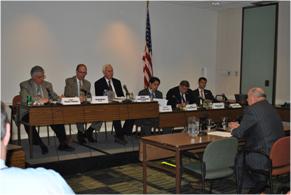 PBA President Forest N. Myers gives testimony before Sen. Greenleaf (third from left) and his committee, Oct. 29, 2013
2013 marks the 50th anniversary of the landmark decision Gideon v. Wainwright establishing the right to counsel for the indigent in serious criminal matters. Few such Gideon-type rights have been recognized in civil matters where basic human needs such as shelter, safety, health, sustenance and child custody are at stake. Meanwhile, the demand has surged for civil legal representation on behalf of the poor, whose ranks have swelled following one of the worst recessions in the nation's history. Those needs have been largely unmet due to a "perfect storm" of sustained, repeated and severe cuts in federal and state funding and a tight private fund-raising environment that has resulted in layoffs of legal aid staff and office closings. The gulf between client need and the availability of legal help has been termed "the civil justice gap." The purpose of the public hearings was to explore and create awareness of the current state and scope of the unmet need for civil legal services by low-income Pennsylvanians confronting legal problems involving basic human needs.
In addition to Myers' testimony, the Senate committee heard from PBA Immediate Past President Thomas G. Wilkinson Jr. at the first hearing. Read Wilkinson's remarks. A variety of other witnesses also testified, including low-income Pennsylvanians, the lawyers who help them, community and business leaders, and judges. Chief Justice of Pennsylvania Ronald D. Castille, honorary chair of a broad-based Civil Legal Justice Coalition created to work on exploring strategies to improve access to justice, also testified, along with Justice Max Baer. The PBA joined with the Philadelphia and Allegheny County Bar associations in the coalition. Serving as tri-chairs of the coalition, who also testified at the final hearing, are Jennifer R. Clarke, executive director of the Public Interest Law Center of Philadelphia; Sam Milkes, PLAN executive director; and Jim Crennan, Allegheny County Bar Association president-elect.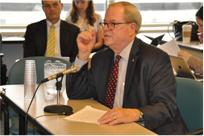 Chief Justice of Pennsylvania Ronald D. Castille testifies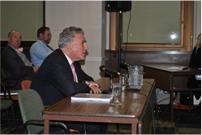 State Supreme Court Justice Max Baer offers his views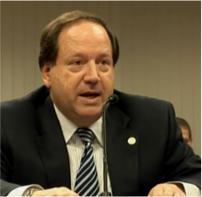 PBA Immediate Past President Thomas G. Wilkinson Jr. giving testimony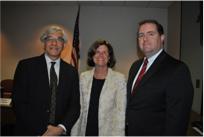 From left, the tri-chairs of the Civil Legal Justice Coalition, Sam Milkes, Jennifer Clarke and Jim Crennan