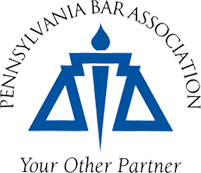 Pennsylvania Bar Association Online Career Services Driven by JobTarget
The Pennsylvania Bar Association provides online career services for members through its partnership with JobTarget, a leader in world-class, web-based career centers for niche audiences. The new PBA Career Services web portal steers members to the online services of JobTarget and provides an efficient and effective way to either find legal jobs or recruit legal talent.
Pennsylvania Bar Association Internship Board for Law Students
The Pennsylvania Bar Association provides a member benefit exclusive to law students - a Web-based Internship Board that connects internship seekers with prospective employers in the legal industry. The Internship Board, built by JobTarget, which powers more than 1,100 job websites and career centers for organizations that service niche audiences, can be accessed by clicking on the link above. Access is available to PBA law student members and non-members alike.