Robert V. Racunas, executive director of the Neighborhood Legal Services Association, received the University of Pittsburgh School of Law's Distinguished Alumni of the Year Award at the Pitt Law Alumni Dinner and Reunion at the annual alumni dinner, Oct. 21, 2006. The award honored Racunas for a lifetime of work on behalf of the neediest among us.
Racunas is the past Chair of the PBA's Legal Services to the Public Committee and was a key leader in the PBA's successful effort to pass the Access to Justice Act. Racunas is currently working on the Loan Forgiveness Implementation Committee as part of the group leading the way for loan relief for public interest lawyers across the Commonwealth.
Racunas earned a B.A. degree at Pitt in 1968 and is a 1971 Pitt law graduate. He has served in his current position at Neighborhood Legal Services Association since 1980 and is responsible for the overall management of the four-county organization, which provides civil legal assistance to low-income residents and victims of domestic violence.
The immediate past president of the Allegheny Country Bar Association, Racunas has been active in the bar associations at the local, state, and national levels. He is an Allegheny County Bar Foundation Fellow and a member of the Western Pennsylvania Federal Bar Association and the Women's Bar Association of Western Pennsylvania.
In addition, Racunas is a member of the American Bar Association (ABA) House of Delegates, the ABA Committee on Equal Opportunity in the Legal Profession, the ABA Labor and Employment Law Section, and the ABA Public Sector and Government Lawyers Division.
Racunas' awards include the Pitt Varsity Letter Club Award of Distinction, the Pennsylvania Legal Aid Network Excellence Award, and the Pitt Mon Valley Club Person of the Year.
An adjunct professor of law at the Duquesne School of Law for 20 years, Racunas also was a member of the Interest on Lawyers Trust Account Board and a Hearing Committee member of the disciplinary board of the Supreme Court of Pennsylvania.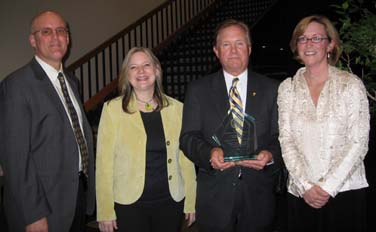 Award recipient Robert V. Racunas, second from right, with, from left, University of Pittsburgh School of Law Alumni Association President Tim Wolfson, association President-Elect Delia Bouwers Bianchin and law school Dean Mary A. Crossley