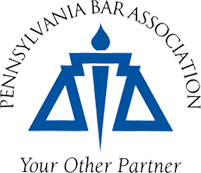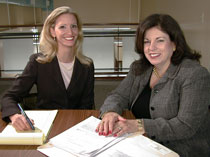 Jennifer Aitken Schnore (left) and Linda Varrenti Hernandez of the Lawyers on Loan Program
What if you could get two lawyers — one each from a couple of big Pittsburgh firms? Sounds like a deal, doesn't it? This is the deal that Neighborhood Legal Services and its executive director, incoming Allegheny County Bar President Robert Racunas, received in fall 2004 from Thorp Reed & Armstrong LLP and Dickie, McCamey & Chilcote. The two firms sent attorneys Linda Varrenti Hernandez (Dickie, McCamey & Chilcote) and Jennifer Aitken Schnore (Thorp Reed & Armstrong LLP) to spend a year handling poverty law cases for the local legal services program. There are other programs in Pennsylvania and around the country that allow first year associates to split their starting salary over two years and go work for a public interest program for a year before starting work for a firm. The unique aspect of the year-long Lawyers on Loan Program is that the attorneys are veteran associates with the experience and contacts that third and fourth year advocates bring. Hernandez and Schnore were not asked to take a pay cut or defer salary to work with the legal services program. The resulting benefit to NLSA not only is that it has two more talented lawyers on hand at no personnel cost to the program, but that the program has greatly expanded NLSA's network of potential pro bono lawyers and contributors through the contacts of the lawyers on loan. Schnore and Hernandez joke that the first thing their peers at the firms asked them was whether their participation in the program relieved everyone else at the firms of any pro bono obligations. The two lawyers on loan replied by telling their fellow associates that this meant even more pro bono work would be done since they want the support of their peers as they work in the trenches.
A few programs around the country feature law firms offering veteran attorneys to legal services for short periods of time and up to half a year. Noting that their six month anniversary in the Lawyers on Loan Program is just approaching, both of the Pittsburgh attorneys stress the importance of their year-long commitment. "It is crucial a full year is devoted to the program because it is an entirely new practice of law and it takes some time to grasp the new issues in poverty law," noted Schnore.
NLSA covers Allegheny, Beaver, Butler and Lawrence counties, providing free legal services in civil cases to low-income clients. Like all of the legal services programs in Pennsylvania, NLSA attorneys work at maximum capacity and still cannot meet the need of all of the poor who qualify for legal services. Despite increased funding to the field from Pennsylvania's Access to Justice Act, hits to federal support and IOLTA funding have kept legal services programs scrambling for new ways to try to bridge the gap between the services provided and the need that exists. The Lawyers on Loan Program is an exciting way to change the oft-cited ABA and PBA statistic that only one in five low income persons receive the civil legal aid they need. The program, honored with a Pennsylvania Legal Services Excellence Award in March 2005, will be featured as part of a panel discussion on Defining Pro Bono at the Wednesday, May 4, 2005, PBA Pro Bono Conference as part of the PBA Annual Meeting in Pittsburgh. Schnore and Hernandez will both participate in the CLE session.
Click here for an update on plans for the second year of the program.